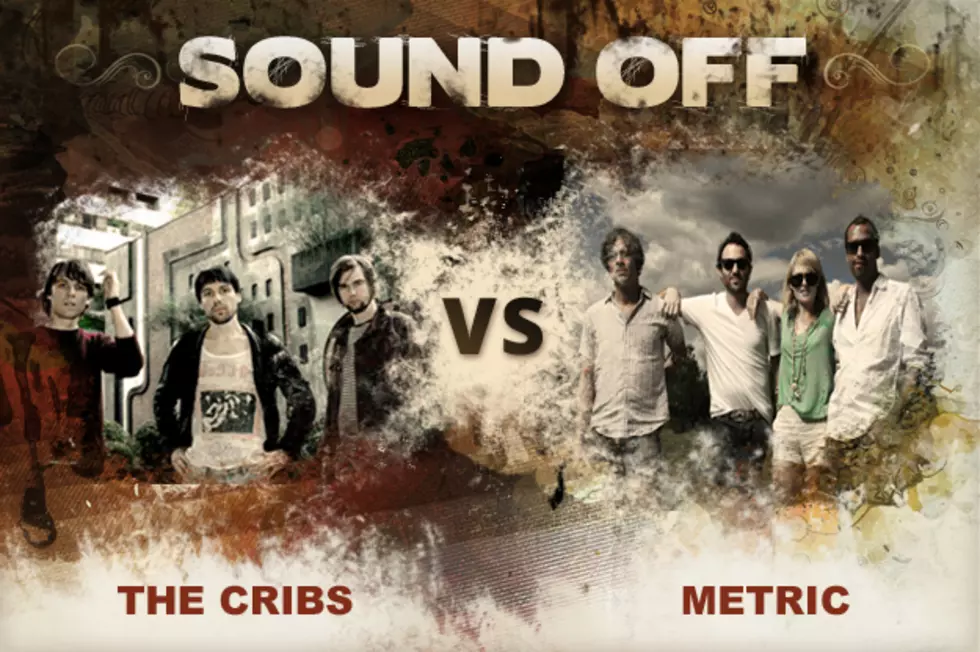 The Cribs vs. Metric – Sound Off
After duking it out in a battle of the songs with the Scissor Sisters' brand-new single 'Only the Horses,' the Cribs have become the latest winners in Diffuser.fm's Sound Off with their single 'Come On, Be a No-One.' As the reigning champs, the British trio will take on Metric and the quartet's 'Synthetica' single 'Youth Without Youth.'
'Come On, Be a No-One' is the first single off of the Jarman brothers' forthcoming album 'In the Belly of the Brazen Bull,' slated for release on May 7, 2012. This uptempo Cribs track has a cacophonous blend of fuzzy six strings, rocking drums, rumbling bass and wailing, gravelly vocals.
Meanwhile, Metric are also serving up their first single off of their 2012 LP, 'Synthetica,' with the eery rock tune 'Youth Without Youth.' Emily Haines' haunting vocals are laid over heavy, grinding guitars and whirring, high-pitched keys, creating an ominous sound that gives us the creeps... but in a good way.
Which track has captivated your eardrums? Vote for either the Cribs' 'Come On, Be a No-One' or Metric's 'Youth Without Youth' below. The poll will remain opened until 11AM ET on May 7, 2012.
Listen to the Cribs, 'Come On, Be a No-One'

Listen to Metric, 'Youth Without Youth'
Rules: If the same artist wins for four weeks straight, their song will be retired and inducted into Diffuser.fm's Sound Off Hall of Fame. With so many great tracks out there, we have to give other musicians a chance to partake in our Sound Off.