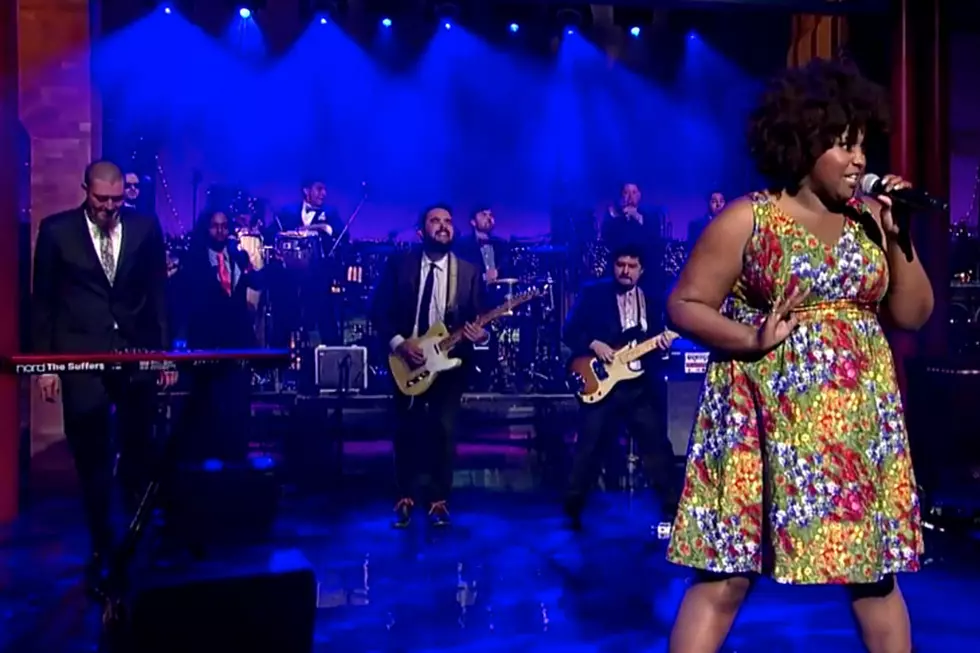 Watch the Suffers Make Their TV Debut on 'Letterman'
YouTube
Since making their mark at CMJ last year, the Suffers have been celebrating the release of their new EP, Make Some Room -- and they've been taking their music all over the country. The soul rockers seem to be on the right course as they stopped by Late Night With David Letterman on Monday night (March 30) for their national television debut. Check out their performance in the video above.
Performing "Gwan," the Suffers frontwoman Kam Franklin stands out amongst the other band members -- not just because of her colorfully floral ensemble but also because of her highly-energetic choreography. Even with all the sick moves, her voice never falters and is strong against the orchestra of instruments in the background. What makes the Suffers a fun act to follow is the fact that they take you back to another time when the clubs were hot and music was super cool.
Between Franklin's flair and the band's sounds, the Suffers could be 2015's answer to Sharon Jones and the Dap Kings. Now wouldn't that be an interesting show (or tour!)?
After their show-stopping performance, Letterman walked onto the stage, looking quite impressed. "If you can't do this, get out of the business," he says enthusiastically after hugging a starstruck Franklin.
The Suffers are currently on the road to promote Make Some Room. They are playing DC9 in Washington, D.C. tonight (March 31) and will be traveling through the country until August.
The Suffers 2015 Tour
March 31 -- DC9 -- Washington, D.C.
April 1 -- Rockwood Music Hall (Stage 2) -- New York City
April 2 -- Boot and Saddle -- Philadelphia
April 3 -- Music Box -- Cleveland
April 4 -- JSO Weatherwax Hall -- Jackson, Mich.
April 7 -- Schuba's -- Chicago
April 8 -- Zanzabar -- Louisville, Ky.
April 9 -- The Basement -- Nashville
April 10 -- Rhythm N Blooms Festival -- Knoxville, Tenn.
April 11 -- Grey Eagle -- Asheville, N.C.
April 12 -- Neighborhood Theatre -- Charlotte, N.C.
April 14 -- The Earl -- Atlanta
April 15 -- 116 E Mobile -- Florence, Ala.
April 16 -- Live Oaks Bar and Ballroom -- Monroe, La.
April 17 -- Maison -- New Orleans
April 25 -- Scoot Inn -- Austin
May 15 -- Hangout Music Festival -- Gulf Shores, Ala.
May 23 -- Neon Desert Festival -- El Paso, Texas
June 6 -- June 7 -- Free Press Summer Festival -- Houston
June 11 -- Riverbend Festival -- Chattanooga, Tenn.
June 12 -- SummerSounds -- Greensburg, Pa.
June 13 -- Canal Place Live! -- Cumberland, Md.
July 3-4 -- Crested Butte Musical Festival -- Crested Butte, Colo.
July 11 -- Seven Sisters Fest -- San Luis Obispo, Calif.
Aug. 2 -- 20th Annual Mammoth Festival of Beers & Bluesapalooza -- Mammoth, Calif.
Make Some Room is now available on iTunes.