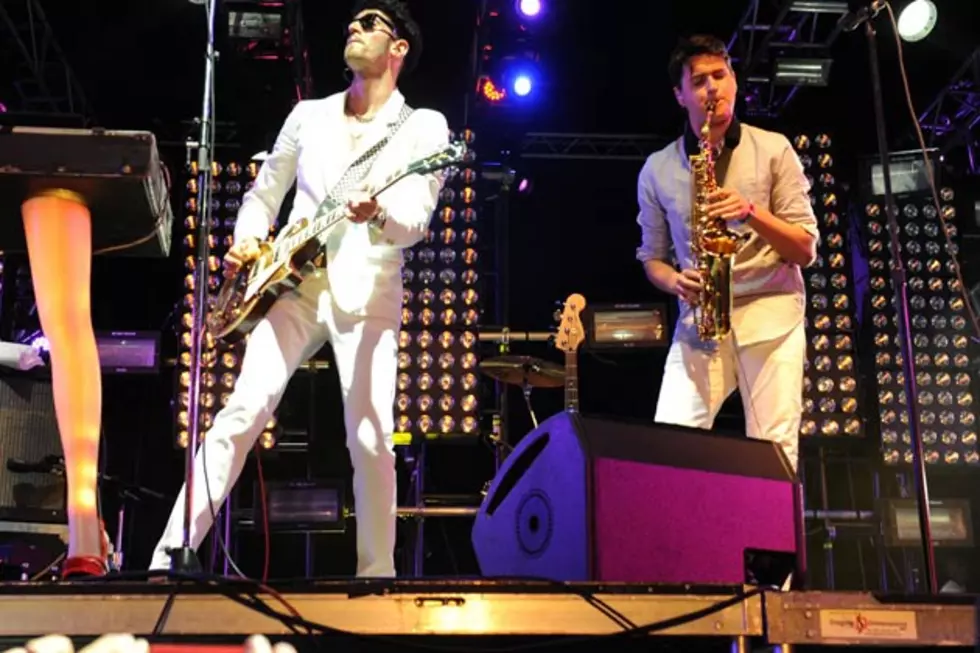 Vampire Weekend Reveal New Album Title, 'Modern Vampires of the City,' Via Tweet + New York Times Ad
Frazer Harrison, Getty Images
Vampire Weekend used both a modern and an old-fashioned method to reveal the title and release date for their third album, 'Modern Vampires of the City,' which is due out May 7. The band tweeted the news after it placed a classified ad in the New York Times, making this a dual print and social media reveal.
Vampire Weekend shared the information in the Notices and Lost and Found column, opting for a simple announcement of the title and the date without the group's name, ensuring only savvy fans would find it.
The group has also issued a press releases revealing the 'Modern Vampires of the City' tracklist (below) and announcing a series of tour dates, making this something of a Vampire Monday!
'Modern Vampires of the City' Tracklist:

'Obvious Bicycle'
'Unbelievers'
'Step'
'Diane Young'
'Don't Lie'
'Hannah Hunt'
'Everlasting Arms'
'Finger Back'
'Worship You'
'Ya Hey'
'Hudson'
'Young Lion'
3/13-16 Austin, Texas | SXSW
4/12 Las Vegas, Nev. | The Cosmopolitan (w.Tanlines)
4/14 Indio, Calif.| Coachella
4/16 Davis, Calif.| Freeborn Hall at UC Davis (w.Tanlines)
4/17 Oakland, Calif. | Fox Theater (w.Tanlines)
4/21 Indio, Calif. | Coachella
5/8 London, U.K. | The Troxy
5/10 Paris, Fr. | Casino De Paris
5/15 Boston, Ma. | Agganis Arena
5/16 Toronto, Ont. | Sony Centre
5/17 Detroit, Mich. | The Fillmore Detroit
5/19 Kansas City, Mo. | Midland Theater
5/20 Denver, Colo. | Red Rocks Amphitheatre (co-headline w. Of Monsters And Men)
5/21 Salt Lake City, Utah | Red Butte Garden Amphitheater
5/23 Portland, Ore.| Keller Auditorium