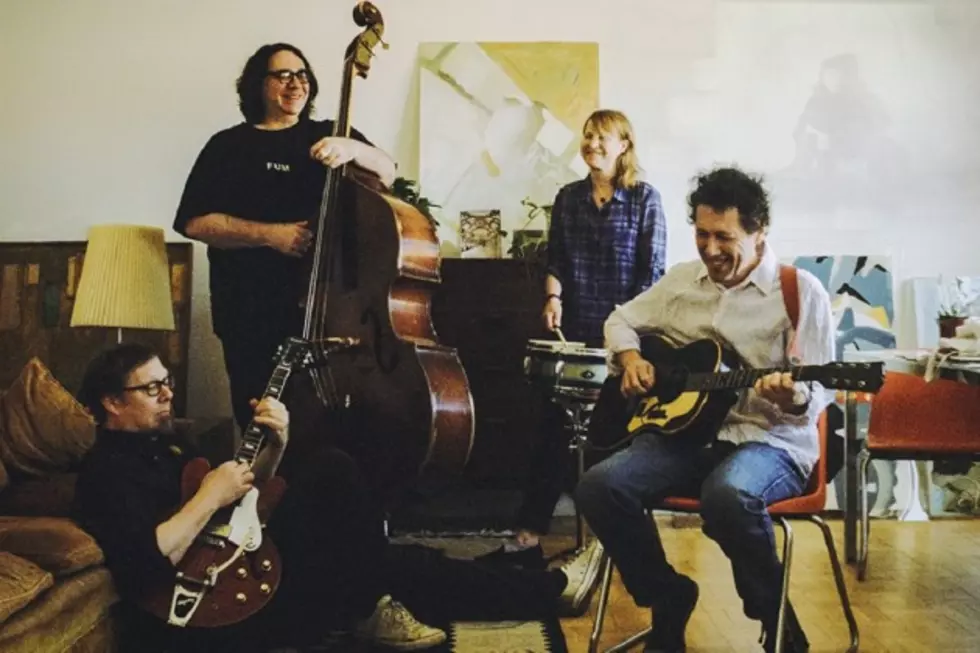 Yo La Tengo Announce New Covers Album, 'Stuff Like That There,' Share Two Covers
Matador
Celebrating a whopping 30 years as a band, Hoboken's Yo La Tengo have announced the release of a brand new album of covers, of their own and other artists' songs, titled Stuff Like That There. The vibrant new album was inspired by the 25th anniversary of their breakthrough 1990 LP, Fakebook.
In a press release, Kurt Wagner of Lambchop sings praises of the band and their new record, proclaiming, "Stuff Like That There may well be a 25th anniversary sequel to the idea of Fakebook, but to my ears it makes a case for simply returning to what moved Yo La Tengo to make things in the first place: embracing the people who they still hold close and making a spirited noise about it."
Stuff Like That There is due out on Aug. 28 via Matador Records, and the band will head out on a world tour kicking off Sept. 23 in Troy, New York; you can check out their scheduled tour dates below.
The record is currently available for pre-order at Matador's webstore, iTunes, Amazon and Google Play. When you pre-order from the label, you will also get a full-print tote bag with a "circa 2015 cassingle" that has both new and unreleased songs, as well as some mystery goodies.
Listen to Yo La Tengo Cover Special Pillow's "Automatic Doom"
Listen to Yo La Tengo Reinterpret Their Own "Deeper Into Movies"
Stuff Like That There Tracklist
1. "My Heart's Not in It" (Darlene McCrea)
2. "Rickety"
3. "I'm So Lonesome I Could Cry" (Hank Williams)
4. "All Your Secrets" (cover of Popular Songs track)
5. "The Ballad of Red Buckets" (cover of Electr-o-pura track)
6. "Friday I'm in Love" (The Cure)
7. "Before We Stopped to Think" (Great Plains)
8. "Butchie's Tune" (The Lovin' Spoonful)
9. "Automatic Doom" (Special Pillow)
10. "Awhileaway"
11. "I Can Feel the Ice Melting" (The Parliaments)
12. "Naples" (Antietam)
13. "Deeper Into Movies" (cover of their I Can Hear the Heart Beating as One song)
14. "Somebody's in Love" (The Cosmic Rays with Le Sun Ra and Arkestra)
Yo La Tengo 2015 Tour Dates
June 26 - Calgary, AB - Sled Island Music & Arts Festival
Sept. 5 - San Sebastian, Spain - Kutxa Kultur Festibla
Sept. 23 - Troy, NY - Troy Savings Bank Music Hall
Sept. 24 - Glenside, PA - Keswick Theatre
Sept. 25 - Washington, DC - Lincoln Theatre
Sept. 26 - Durham, NC - The Carolina Theatre of Durham
Sept. 27 - Atlanta, GA - Variety Playhouse
Sept. 29 - Millvale, PA - Mr. Smalls Theatre
Sept. 30 - Toronto, ON - Queen Elizabeth Theatre
Oct. 2 - Montreal, QC - Corona Theatre
Oct. 3 - Boston, MA - The Wilbur Theatre
Oct. 15 - Dublin, Ireland - National Concert Hall
Oct. 16 - Glasgow, Scotland - The Garage
Oct. 18 - Bristol, UK - Colston Hall
Oct. 19 - Coventry, UK - Warwick Arts Center
Oct. 20 - London, UK - O2 Shepherd's Bush Empire
Oct. 23 - Paris, France - La Cigale
Oct. 24 - Holland, Amserdam - Paradiso
Oct. 25 - Leuven, Belgium - Het Depot
Oct. 27 - Berlin, Germany - Heimathafen
Oct. 28 - Koln, Germany - Kulturkirche
Nov. 5 - Chicago, IL - The Vic Theatre
Nov. 6 - Madison, WI - Barrymore Theatre
Nov. 7 - Minneapolis, MN - Pantages Theatre
Nov. 9 - Boulder, CO - Boulder Theater
Nov. 13 - Los Angeles, CA - The Theatre at Ace Hotel
Nov. 14 - San Francisco, CA - The Masonic
Nov. 17 - Eugene, OR - WOW Hall
Nov. 18 - Portland, OR - Revolution Hall
Nov. 20 - Seattle - Neptune Theatre
Nov. 21 - Vancouver, BC - Vogue Theatre