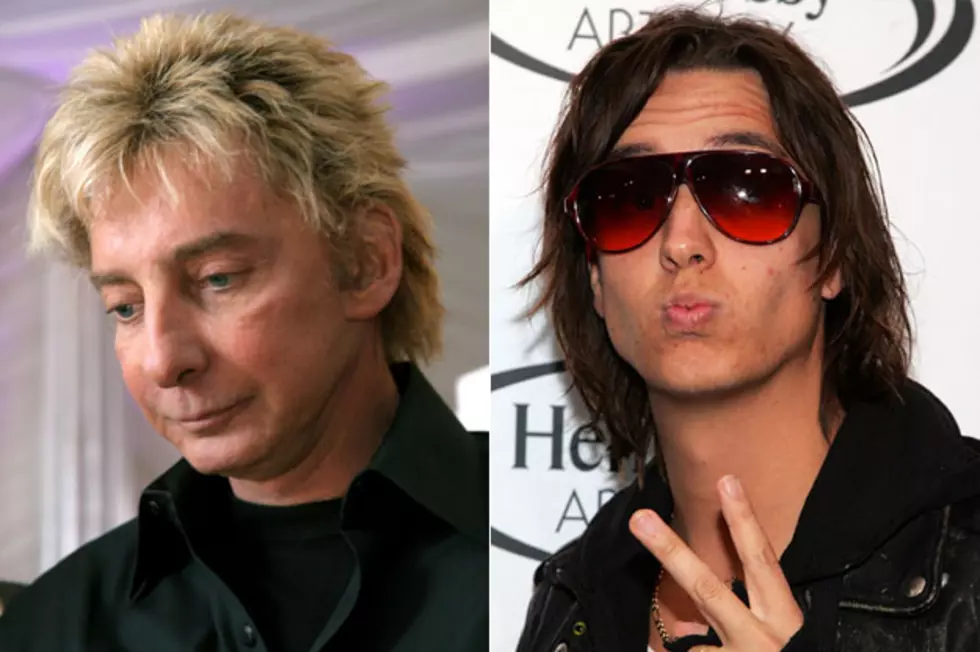 Barry Manilow vs. The Strokes – Song Parallels
Aside from their New York roots, you wouldn't think Barry Manilow and the Strokes had much in common -- after all, Manilow is a Brill Building-inspired pop songwriter famous for his many hit ballads, while the Strokes' garage-fueled power chords brought them widespread critical acclaim as one of the most important young rock bands of the 21st century. But as it turns out, the band may have absorbed a bit o' Barry in its creative DNA.
Sadly, we aren't referring to Strokes frontman Julian Casablancas donning a sequins-covered suit and belting out 'Copacabana'; instead, we're talking about 'Razorblade,' a track from the band's 2006 album 'First Impressions of Earth,' whose chorus melody bears an uncanny resemblance to 'Mandy,' the Scott English song that Manilow covered and turned into his first No. 1 hit in 1974.
Of course, unlike 'Mandy,' the Strokes track isn't a sweeping power ballad about a selfless woman who came and gave without taking -- but it is another radio-friendly tale of love gone wrong, and while its tempo runs at a gallop rather than luxuriating in syrupy '70s strings, its chorus follows a strikingly similar melodic path.
Regular readers know that this isn't the Strokes' first visit to Song Parallels, and as it turns out, Manilow has had his own brushes with accusations of plagiarism -- most notably as a songwriter, when it was pointed out that his 'Could It Be Magic' borrowed wholesale from Chopin's Prelude in C Minor. He was also tangentially involved in a copyright dispute when the publishing company behind 'Can't Smile Without You' -- which Manilow turned into a hit after it was originally recorded by the Carpenters -- sued George Michael for stealing its melody to create the Wham! hit 'Last Christmas.'
Listen to Barry Manilow, 'Mandy'
Listen to the Strokes, 'Razorblade'