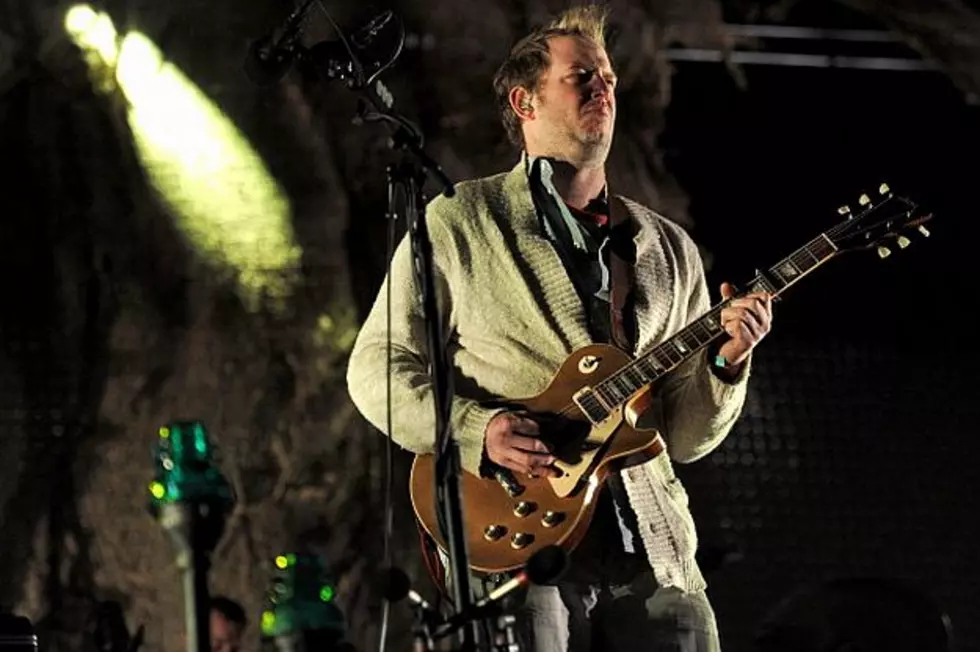 Why Bon Iver Will Step Up the 'Wish I Was Here' Soundtrack
Kevin Winter, Getty Images
Has it really been two years since we've heard a peep out of Bon Iver, the Justin Vernon-fronted indie-folk act that took the music world by storm a couple years ago, and then basically disappeared? Yes, it has been that long.
But Bon Iver will be back on the scene again soon, thanks to actor/director/producer/renaissance man Zach Braff, who first earned a reputation for his exquisite taste in indie rock a decade ago with the soundtrack he personally curated for the flick 'Garden State,' which was full of bands so indie-licious that it earned Braff a Best Compilation Soundtrack for a Motion Picture Grammy.
This time around, Braff has his sights set even higher, judging from the collection of talent featured on the soundtrack to his latest movie, 'Wish I Was Here,' which hits screens in select theaters July 18. With classics, original collaborations and new cuts from bands as varied and vaunted as the Shins, Badly Drawn Boy and Cat Power with Coldplay's Chris Martin, we wouldn't be surprised if Braff takes home some more Grammy hardware this time around.
Frontman Justin Vernon's band was, of course, all the rage back in 2012 when it won big at that year's Grammy Awards on the back of its second album, the previous summer's 'Bon Iver,' which peaked at No. 2 on the chart,  sold more than half-million copies and spawned four stellar singles, with the breakout cut 'Holocene' even managing to crack the U.S. Hot 100 singles chart. Vernon snagged a pair of Grammys that year -- trophies for Best New Artist and Best Alternative Music Album -- and all seemed right in the universe.
It was quite an impressive showing for an indie-folk singer who just one year prior had all the name recognition of a stale piece of toast. Vernon's seemingly overnight success story was the kind many musicians dream of but few ever attain: In 2006, heartbroken over a break-up with his then-girlfriend and feeling aimlessly adrift after his former band, DeYarmond Edison, called it quits, Vernon decided to retreat to a deserted cabin in Medford, Wis., where he took all the powerful feelings floating around his head and turned them into the songs that would be featured on his debut album, 'For Emma, Forever Ago,' which received some sporadic interest. It wasn't until the self-titled album dropped that things really took off.
Then suddenly, at the height of his new fame, Vernon left fans scratching their heads with an announcement that seemed to question the very future of his massively successful project. "I have to turn it off and walk away from it because … there's so much attention on the band, it can be distracting at times," he said during a 2012 interview with a Minnesota public radio station. "I really feel the need to walk away from it while I still care about it. And then if I come back to it -- if at all -- I'll feel better about it and be renewed or something to do that."
Turns out, those threats were true -- if only temporarily. After wrapping up an extensive tour in support of the album, Vernon did take a break from the band, instead focusing his energy on a variety of side projects and one-off collaborations. The following months saw him perform with his his blues-infused duo of a side project the Shouting Matches, record a song as part of 'The Flaming Lips and Heady Fwends' album and even handle production duties on an album from gospel group the Blind Boys of Alabama.
Which brings us back to Bon Iver's contributions to 'Wish I Were Here.' Two cuts appear on the 15-track album -- the Bon Iver classic 'Holecene,' and a new tune titled 'Heavenly Father.' Seems Vernon is still living up to the mysterious aura he created around himself, but that's fine with us. Now, if next time around we could just get an entire new album out of him, all would be right in the universe once again.