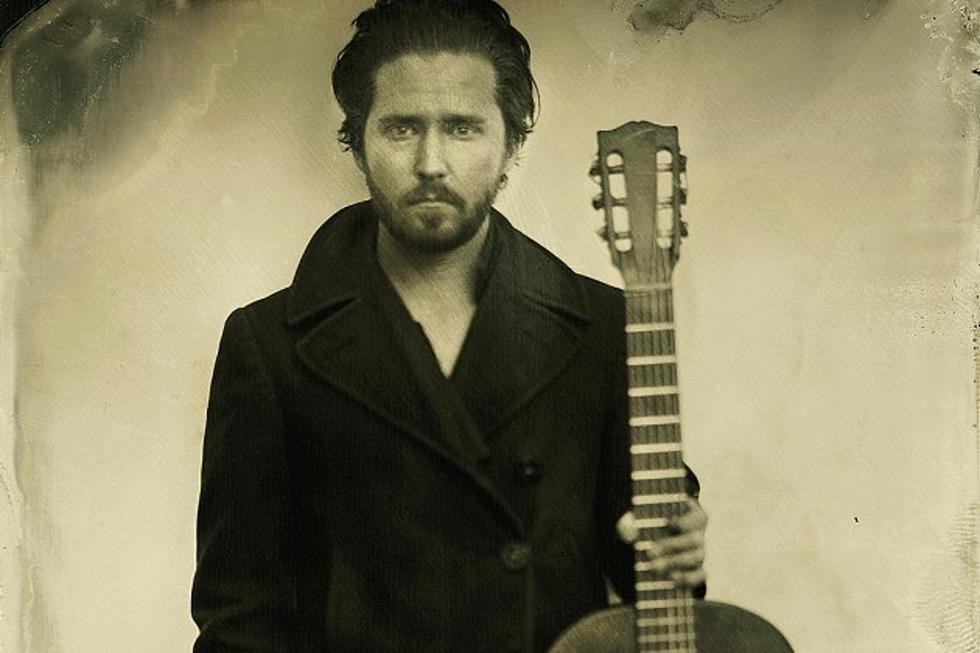 Christopher Paul Stelling on Influences, Vinyl and Folk Music
Josh Wool
There's something very special about Christopher Paul Stelling's music. It's not hidden, it's there for anyone and everyone to hear; his raw, rich voice; his real-life lyrics; his intricate and complex finger-picking musical style.
Stelling's appreciation and passion for music has been with him his entire life, and they are on full display throughout his new record, Labor Against Waste, set for release on June 16 via Anti-.
Chatting with Stelling before he hit the road for an expansive summer tour in Europe, we had the opportunity to cover his lifelong experience with music, where he draws his influences from, and why, even though he sold his collection, he'll always love vinyl. Check out our exclusive conversation below:
The first time I heard one of your songs, I was mesmerized by your picking style. Though different, it's distinctiveness reminds me of Dave Van Ronk's three-finger approach. How did you develop this style?
Thank you! Also, that's very astute of you! You know, most people want to talk about John Fahey, but actually Dave Van Ronk was a very early influence of mine. I loved his record Folksinger on the Folkways label. I started looking deeper and deeper into finger picking lore as I started realizing I had a burgeoning aptitude for it. Once I looked back at the history of finger style guitar from country blues to Hawaiian slack key to Chet Atkins and Merle Travis, and then the resurgence of the Takoma Records players, it opened up a world and vocabulary for me that I could draw from ... but, what's interesting is that these were mostly instrumentalists. So what was an exciting challenge for me was to incorporate this type of playing into my songwriting while allowing the songs to hopefully carry the playing, and not the other way around.
As we chat about Van Ronk, do you draw influence or inspiration from the folk revival of the '50s and '60s in New York City?
Surely. Woody and Pete, Dylan, Sandy Bull, John Jacob Nile, Sonny Terry and Brownie Mcghee, Lead Belly even ... the list of what was happening in New York City at that time is endless, especially the "rediscovering" of older artists that was taking place. It's been priceless to me. What so many people over look I think is how long it lasted. I mean, the first wave of that revival took root in the '30s and '40s and lasted well into the '60s; arguably it could be said that folk music was never born, never had a "revival" and never died. It's always been. I prefer it that way. In that respect I think perhaps that the only pure definition of "folk music" is non-commercial music. People music, after all, is what it was and is.
Has music always been a part of your life?
As long as I can remember, but not in a way that I felt was exclusive to me. Early on, music was very communal, like in church and musical theater. The song itself is the most important thing, not guitar, or instruments ... to me it's the voice and the words first, though I love to play guitar more than anything ... anything except for song itself, which is the ultimate form of human expression in my book. And a song can be anything that's sung.
Labor Against Waste is your debut album with the revered Anti- record label. Did signing with an outfit like that change your approach to songwriting or playing at all?
No, in fact, I had completed this record before all of this took place. It was finished nine months ago, but a chance to work with Anti- was worth the wait. The fact that they were willing to release the record exactly as I made and intended it spoke volumes to me. I hope it will be a long and fruitful relationship -- I really love these people.
Do you find that any other outside forces -- Spotify, iTunes, et al. -- affect how you write a song, or craft an entire album?
No, but I think if people will be able to continue to support themselves, streaming has to be adjusted somewhat in the way its funds are allocated. I know there are folks out there that create specifically with mass appeal and marketability in mind, but I'm not interested in that. But, I don't dislike a catchy tune at all.
The new record is available on vinyl, which as you know from a couple tweets of mine, I'm all about! How important is vinyl to you personally?
Honestly, I gave up my collection due to travel, but I love the way folks admire the format. It feels really great to place your music on vinyl in someone's hands. It's the first format and still the greatest to behold ... it's a bitch to carry up flights of stairs though, as I did today.
Why do you think there has been this resurgence and new interest in vinyl in the last eight or so years?
I think it's strictly a matter of tangibility. It's a beautiful format to hold and love, though, I'll tell you, it's not so much fun carting them around the world -- they're damn heavy! But if it helps people be excited for the music, then I'll carry them anywhere I can. It will be interesting to see if the trend continues, because it will be limited by the machines that are already available. As far as I know, when vinyl declined basically everywhere but in punk rock, the majority of the machines were scrapped. It's hit a ceiling and turn arounds take almost six months because of the resurgence. So who knows the timeline on the trend? I hope it lasts. I'm very proud to have had all three of my records on vinyl.
With the new album hitting the streets soon, what lies on the horizon for the rest of your 2015?
Touring! I'll play at least 100 shows abroad and at home between now and year's end. I'm planning for next year gradually; it's an exciting time, and I'm not taking one second of it for granted. I'm very lucky to be here.
You can pick up Christopher Paul Stelling's latest album -- and his debut with Anti- -- on CD, digital and vinyl formats. Grab more information here, and check out his extensive tour itinerary at this location.
Watch Christopher Paul Stelling Perform "Warm Enemy"