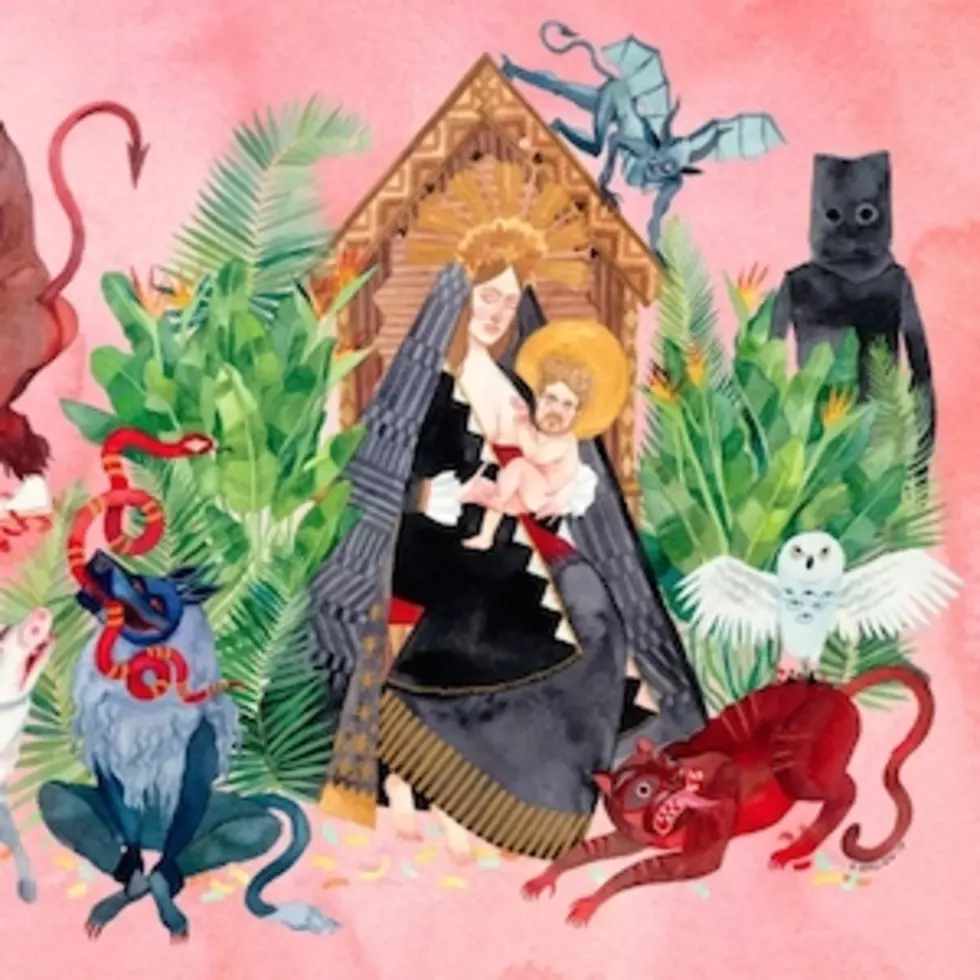 Father John Misty, 'I Love You, Honeybear' – Album Review
Sub Pop
There was something slightly insufferable about Father John Misty's 'Late Show' performance of 'Bored in the U.S.A.' this past November. Every movement and lyric felt so sarcastic, from the way he pretended to play the player piano during the first verse, to his beseeching of "white Jesus." Even the way he slicked his hair back was slightly irritating in its snickering dishonesty. OK, so your point is, America is cheap and exploitative and you're bored? It's been said.
But I did like the music. 'Bored in the U.S.A.' is this soaring Elton John-style ballad, featuring a 'Great Gig in the Sky'-like descending piano line and a wall of strings, and J. Tillman -- the man behind Father John Misty -- hits all the notes. Against my better judgement, I watched the video about 10 times, and couldn't help singing along to that dramatic chorus.
This is how my expectations for 'I Love You, Honeybear,' the new Father John Misty album, were set. It turns out, they really weren't that off base. 'I Love You, Honeybear' is a pop album in the old-fashioned (I mean '70s) sense, built on showtune-style melodies, on-your-feet arrangements and soul-bearing lyrics. But the sarcasm that made that 'Late Show' performance overbearing is really just one recurring sentiment on an album that combines all kinds of honest, funny and often unpretty sentiments, creating a kind of sweetened but still honest snapshot of Tillman.
The album's heart and soul is in a handful of songs about Tillman's wife, Emma, whom he married in 2013. 'I Love You, Honeybear,' the album's lead-off track, is possibly its best. It's a 33-year-old L.A.-dwelling indie rock singer's version of 'It Was a Good Day' meets the melodrama of 'Candle in the Wind,' a song about euphoric, end-of-the-world epicureanism, about having sex and smoking joints all day with the blinds closed to the crumbling world. Musically, it's pure fun -- strings rise and recede, a honky-tonk piano shambles, a pedal steel reaches for the song's climax. It's the album's most lucid statement, as if to say, "I'm Father John Misty, and I'm happy as hell."
Similarly, 'Chateau Lobby #4 (in C for Two Virgins)' is a straight-forward song about whiling away a day in someone else's company, decorated with the mariachi sounds that might waft in through an open Los Angeles window. In fact, the entire album is "straight forward" -- but is there any other way to say, "You left a note in your perfect script: 'Stay as long as you want' / I haven't left your bed since"? And when was the last time you heard this kind of instrumentation used loudly, earnestly -- when it wasn't a cheap, Ray LaMontagne-style move to make baby boomers nostalgic?
Not everything on the record is so blissful. 'Nothing Good Ever Happens at the Goddamn Thirsty Crow' is partly an imaginary confrontation with dudes who would hit on Emma at an L.A. bar, a ballad on par with 'I Love You, Honeybear' but emotionally uglier; 'Strange Encounter' is a harrowing story about reviving a girl passed out from alcohol poisoning, set to Fleet Foxes folk (Tillman was briefly the drummer in that band). 'The Night Josh Tillman Came to Our Apartment' is a takedown of a dumb ex-girlfriend, and such a nasty, funny one. "She says, like literally, music is the air that she breathes," Tillman sings, and later responds, cuttingly: "Well, it's literally not that."
It's cliche, but Tillman's refusal to obfuscate -- to just say "the malaprops make me wanna f--king scream" -- is Dylan-esque, in Dylan's best "f--k it, I'm just gonna tell it like it is" realness. The more you listen to 'I Love You, Honeybear,' the closer you feel to Tillman, and the more the songs feel like barroom confessions. By the time you get to 'Bored in the U.S.A.,' the song is maybe not so insufferable anymore. You warm up to the smack talk and the dark sarcasm. In fact, the only weak song on the record is 'True Affection,' a misguided electronic detour that has neither the lucidity nor the grandiosity of the rest of the album.
The sweetest, most sincere song on the LP is the closer, 'I Went to the Store One Day,' just acoustic guitar and strings but still sounding huge; McCartney-like in its sentimentality and wistful visions of elderliness. "I need someone I can trust to protect me from our seven daughters when my body says, 'Enough!'" Tillman sings, and, "Don't let me die in a hospital, I'll save the big one for the last time we make love." But just when you're so into the song -- it's so right and endearing, truly heartfelt and tender -- Tillman comes along with this smirky line: "Insert a sentiment here re: our golden years." And you want to smack him in the head.
Why can't he just commit to the song, instead of suddenly covering himself back up with sarcasm? But, alas, that's also partly what's to love about this record -- Tillman's transparent, honest foray into real, unadorned honesty. Besides, how much can you criticize a record you can't stop listening to?