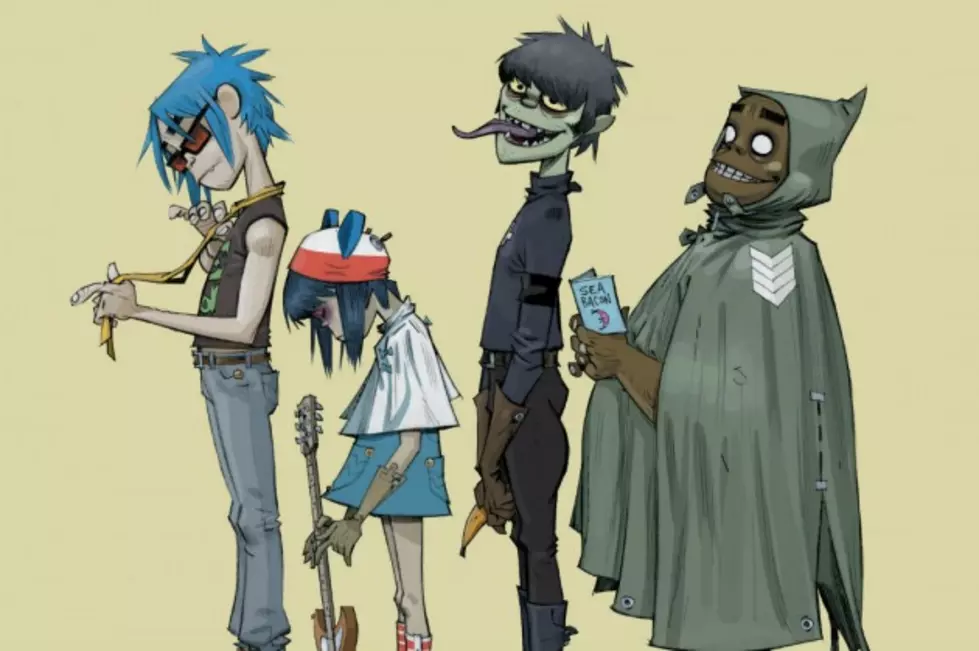 11 Years Ago: Gorillaz Prove They're for Real With 'Demon Days'
Parlophone
Being a cartoon character has its pros and cons.
On one hand, you can typically get away with far more than human beings. The Simpsons have been able to consistently push the envelope for more than a quarter-century because there's an inherent harmlessness to animated characters. On the other hand, the flipside to being a cartoon is that it can be inherently difficult to be taken seriously.
From the start, this dichotomy has played an intrinsic role with Gorillaz – the best-selling and most acclaimed virtual band of all time. Of course, that was always the point. The "band" is comprised of four characters of varying degrees of depravity, none specifically representing any real-life musician. Although, vocalist-keyboardist Stuart "2D" Pot is a thinly veiled guise for Gorillaz mastermind (and Blur frontman) Damon Albarn, who created the band in 1998 with his then-flatmate (and Tank Girl comic book artist) Jamie Hewlett.
After marathon viewings of MTV (which still played videos back then), the duo envisioned an animated group that would provide a commentary on what they perceived to be a lack of substance. It's apparent in the wit and general playful tone of Gorillaz's self-titled 2001 debut – a genre-bending amalgam of mainstream rock, hip-hop, dub, Latin music and everything in between – recorded in Jamaica with producer Dan "the Automator" Nakamura.
While the album became an unexpected success – especially in the U.S. where the popularity of Gorillaz quickly surpassed that of Blur thanks to the single, "Clint Eastwood" – the project was largely regarded as a novelty. Meanwhile, Blur had fallen into disarray after the departure of guitarist Graham Coxon, and the remnants of the band released just one more album (2003's Think Tank). But anyone still paying attention to Blur had to notice the shift in Albarn's musical tone. Once among the primary poster boys for Britpop, he infused heavy electronic elements into Think Tank along with far-reaching influences like jazz and African music.
So when Gorillaz became his primary creative outlet in 2004, the timing was incredibly fortuitous. No longer constrained by the genre restrictions Blur were held to, he was also able to disappear completely behind the artifice of his animated band, allowing the music to venture into completely uncharted territory. Knowing that he wanted Gorillaz' sophomore effort – their first in the post-9/11 world – to be darker and more complex than their debut, he decided not to re-team with Dan the Automator. Instead, he enlisted Danger Mouse, who had recently risen to fame with The Grey Album – a mash-up the Beatles' White Album with Jay-Z's Black Album.
Inspired by a train ride through what Albarn described as a "weird, unspoken, forgotten part of China" that seemed "otherworldly" and "post-apocalyptic," he brought an intense and specific vision to Demon Days. Although all 15 tracks are wildly different from the next and feature a wide array of guests from Roots Manuva to Dennis Hopper, each represents a battle with a personal demon. The world's introduction to the album came in the form of the lead single "Feel Good Inc." – possibly the album's closest thing to "Clint Eastwood" with Albarn trading clean, melancholy vocals with rap verses by De La Soul. The song topped Billboard's Modern Rock chart for eight consecutive weeks and surpassed "Clint Eastwood" as their most popular song to date.
"Feel Good Inc.," however, belied the diversity on Demon Days (released 10 years ago this month), but it was quickly apparent with the second single, "Dare." Sung by the guitarist character Noodle (voiced here by Roses Gabor), it also prominently features vocals by Happy Mondays frontman Shaun Ryder. While it became the band's first and only No. 1 hit in the U.K., it still retained many of the more familiar elements of Gorillaz. Other singles including the harrowing "Kids With Guns" and the symphonic "El Mañana" are slightly more accurate representations of the album's overall sound – one that feels sparse and simplistic but with an underlying beauty bubbling beneath the surface. "Dirty Harry" – an obvious nod to "Clint Eastwood" – is a perfect representation. Beginning with just Albarn over a funky beat, a children's choir gradually ascends from the back of the mix before sweeping strings and Bootie Brown of the Pharcyde take over. Aside from scant noises here and there, Albarn's voice isn't heard again during the entirety of the song.
However, it's the tracks that weren't released as singles that truly reveal the elaborate arrangements and lush layers that make Demon Days one of the most innovative albums of the 21st century. Where Gorillaz's debut was often bright and airy, Demon Days is dense and atmospheric – foreboding like the darkest Italian operas and precisely pieced together with an endless array of cameos and musical detours that evokes the Beach Boys' Pet Sounds. From the alternately bittersweet and uplifting "Last Living Souls" to the orchestral-tinged funk bombast of "Every Planet We Reach is Dead" (featuring outright transcendent piano from Ike Turner), the album is like a symphony unto itself.
In fact, in order to to fully appreciate its majesty and genius, it helps to see the songs performed during a rare Gorillaz performance – like the band's epic 2006 concert at the Manchester Opera House. Throughout the show, Albarn relegates himself to just one of many silhouettes in the background as he pounds away at the piano and bounces in his seat like he's just another fan, presumably after conducting weeks of meticulous rehearsals.
Beyond the music, however, Albarn is also at his lyrical best on Demon Days. He was often at his best while playing a character of sorts in Blur, and he's able to stretch out fearlessly through the narratives of Gorillaz. The themes on the album are obvious: it's all about mankind's imminent self-destruction on both a local scale ("Kids With Guns" was inspired by a classmate of his young daughter bringing a knife to school) and a global one (the parable "Fire Coming Out of the Monkey's Head" is about draining the planet dry of oil). Hewlett's art direction is also next level, evident not only with the videos but with the CD insert which features individual pieces of artwork for each song on the album – all in keeping with Albarn's apocalyptic concept.
It's possible, however, that the cartoon element of Gorillaz obscured the greatness of Demon Days. Had the album been released under the Blur name, it might have positioned the band in proximity with Radiohead – it shines all of the spectrum of Albarn's influences though his distinct prism. Of course, it also might have been criticized and labeled too self-indulgent or obnoxiously grandiose – another example of Albarn stroking his own ego. But coming from the virtual characters of Gorillaz, it's easier to focus entirely on the music for what it is – a gargantuan-sounding album that revels in its own dark weirdness and one that might be all-too prescient.