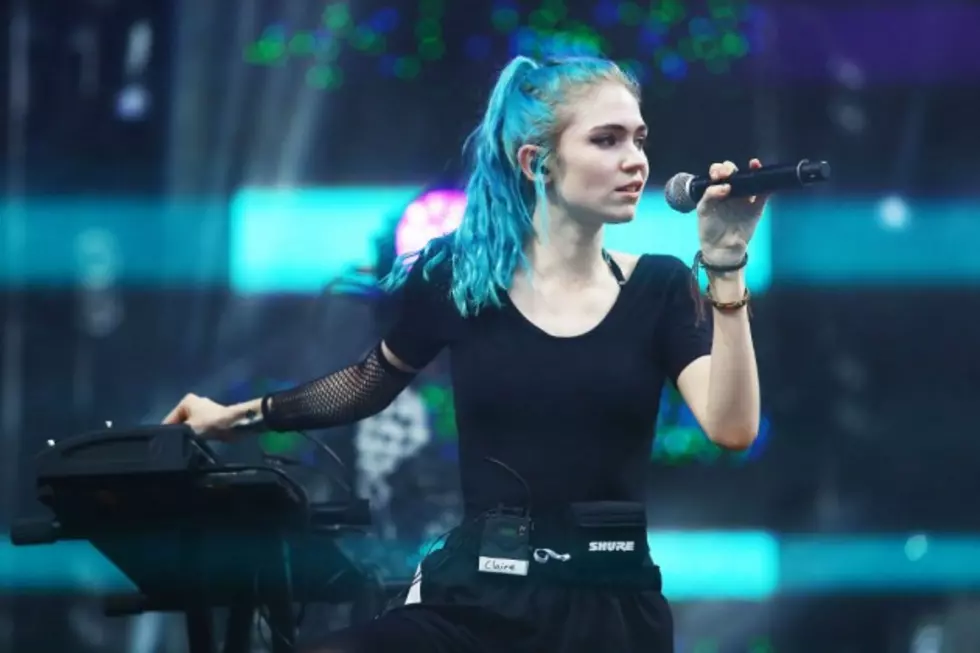 Grimes Reveals Title, Unveils the Manga-Style Cover for Her Upcoming Album 'Art Angels'
Astrid Stawiarz, Getty Images
Grimes, aka Claire Boucher, is gearing up for the release of her fourth album, and today (Oct. 19), she's revealed the title and album art. The forthcoming LP is dubbed Art Angels and that's the cover -- which Boucher designed herself -- below:
Art Angels serves as a follow-up to the Canadian singer-songwriter-producer's 2012 full-length Visions. Back in May, in tweets that have since been deleted, Grimes said she would surprise release the LP in October, because she wants "fans to get it b4 press and the tracks should be heard together." However, per her Instagram, Grimes plans to drop "music & video" next week -- we'll just have to wait and see whether that will be a single music video or the entire album accompanied by a visual.
In interviews, Grimes has given a diverse set of inspiration behind Art Angels. While speaking with Q Magazine, the singer said she culled material from what she calls "bro-art" -- namely Bruce Springsteen, Billy Joel and mobster movies.
"One song on the album, 'Kill V Maim,' is written from the perspective of Al Pacino in The Godfather Part II," she said (via Love You Claire Tumblr). "Except he's a vampire who can switch gender and travel through space."
The singer also revealed Art Angels' agenda is a political one. "I'm trying to represent something politically," she said. "That women can do technical work. That I can be a producer and pop star and also very experimental."
Grimes' tour takes her to Santa Ana, Calif., on Oct. 24. She has North American stops scheduled through November, a handful of which will feature Nicole Dollanganger as her opening act. See the complete itinerary below:
Grimes Tour
Oct. 24: Santa Ana, CA - Growlers Beach Goth Party Festival *
Oct. 26: Vancouver, BC - Commodore *
Oct. 27: Portland, OR - Wonder *
Oct. 28: Seattle, WA - The Showbox *
Oct. 31: San Francisco, CA - The Fillmore
Nov. 1: San Francisco, CA - The Fillmore
Nov. 2: Los Angeles, CA - Mayan
Nov. 7: Austin, TX - Fun Fun Fun Festival
Nov. 9: New Orleans, LA - Republic
Nov. 10: Nashville, TN - Marathon Music Works
Nov. 11: Atlanta, GA - Buckhead Theatre *
Nov. 13: Washington, DC - 9:30 Club
Nov. 14: Philadelphia, PA - Union Transfer
Nov. 16: New York, NY - Terminal 5 *
Nov. 20: Boston, MA - Paradise *
Nov. 21: Montreal, QB - Metropolis *
Nov. 22: Toronto, ON - Danforth *
Nov. 24: Chicago, IL - Metro
Nov. 25: Chicago, IL - Metro
* w/ Nicole Dollanganger