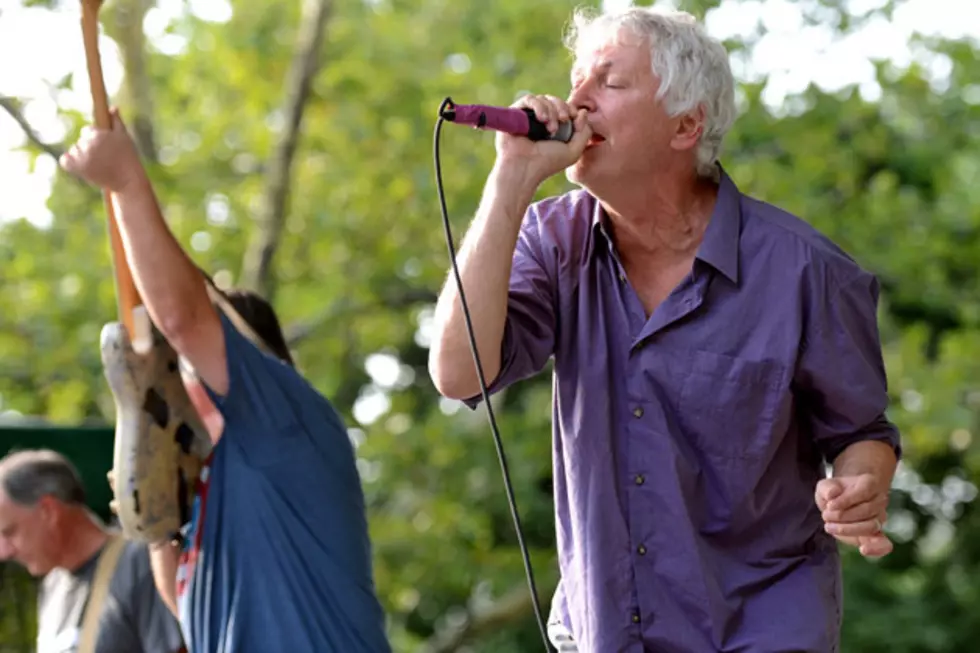 10 Best Guided by Voices Songs
Jason Kempin, Getty Images
Robert Pollard was a schoolteacher from Dayton who spent his spare time writing British Invasion-kissed garage-rock songs with bizarre titles for his band Guided by Voices, a ragtag group that mostly included drinking buddies from his neighborhood. Plugging away since the early '80s, Pollard's rock 'n' roll journey could have easily been relegated to Midwestern musical obscurity, but a funny thing happened on the way to the local bar.
After breaking up in 1992, Pollard resurrected the Guided by Voices name and recorded 'Vampire on Titus,' their sixth studio album, the next year. The indie-rock press fell hard for the record, garnering it with gushing reviews, which eventually led to a deal with hip indie label Matador Records. GBV went on to become of the '90s' most influential acts, giving low-fi-obsessed garage bands from Tacoma to Tallahassee hope that they too could land feature stories in 'Rolling Stone' and 'Spin.'
Pollard is turning 56 this year, and he's still a critical and cult favorite, releasing solo records and, recently, 'English Little League,' GBV's 20th(!) album. It wasn't easy coming up with our list of the 10 Best Guided by Voices Songs. After all, Pollard has written more than 1,600 of them.
10

'Glad Girls'

From: 'Isolation Drills' (2001)

Kicking off with a cotton candy-sweet chorus, 'Glad Girls' is easily one of Pollard's poppiest and most air-guitar-worthy moments in his super-sized discography. If rock radio programmers weren't so tied to their tight playlists, 'Glad Girls' could have been Guided by Voices' ticket to commercial glory.

9

'Shocker in Gloomtown'

From: 'The Grand Hour' (1993)

With its urgent pacing, hooky vocal melody and a session sounding like it was tracked in a dingy basement with a Radio Shack 4-track recorder, 'Shocker in Gloomtown' is a little piece of low-fi gold. Fellow Dayton BFFs the Breeders love the song as much as we do, covering 'Shocker in Gloomtown' on their 'Head to Toe' EP a year after GBV's original was released.

8

'I Am a Scientist'

From: 'I Am a Scientist' (1994)

Originally written and recorded for GBV's breakthrough 'Bee Thousand' album, it's the full-bodied version of 'I Am a Scientist' found on their 1994 EP of the same name that makes our list. The way Pollard's vocals are buried just beneath the guitars in the mix is the kind of ragged charm that makes GBV so damn irresistible.

7

'Tractor Rape Chain'

From: 'Bee Thousand' (1994)

Pulled from 1994's breakthrough 'Bee Thousand' album, 'Tractor Rape Chain' remains one of GBV's most beloved songs. The song's odd title is a perfect example of Pollard's warped genius, but its anthemic chorus is what will keep you reaching for the repeat button on your iPod.

6

'Hold on Hope'

From: 'Do the Collapse' (1999)

While most Pollard fanboys dismiss it as his weak attempt at writing a 'modern rock' hit single, when it comes down to it, the Ric Ocasek-produced 'Hold on Hope' is GBV's finest pop moment. An aching ballad with swelling strings and layered vocal harmonies, it's admittedly not stylistically in the same universe as most of Pollard's work, but you'd be a fool to deny how great 'Hold on Hope' truly is. Glen Campbell's 2011 heartbreaking version of the song is also worth seeking out.

5

'Chasing Heather Crazy'

From: 'Isolation Drills' (2001)

'Chasing Heather Crazy' sounds like the Hollies jamming on an obscure B side from the Raspberries. Yes, this is the kind of record-store geek fantasy only Pollard and crew could pull off so well or, for that matter, even dream up.

4

'14 Cheerleader Coldfront'

From: 'Propeller' (1992)

Pollard and GBV guitarist (and sometime co-writer) Tobin Sprout get all campfire acoustic on this gem. Harmonizing throughout its minute-and-a-half span, the duo comes off like a garage-rock Simon & Garfunkel, albeit not nearly as vocally polished as the iconic folksters. Pollard and Sprout still perform '14 Cheerleader Coldfront' at GBV's live shows, and it always becomes a huge audience singalong. It's a beautiful thing.

3

'Game of Pricks'

From: 'Alien Lanes' (1995)

Leave it to Pollard to write one of the greatest power-pop songs of all time. Infectious from start to finish, 'Game of Pricks' includes the line 'I never asked for the truth / But you owe that to me" -- one of those lyrics that resonate with you even though you might not even know what the hell the writer is talking about. Pollard is great at shooting off those kind of nuggets.

2

'Echos Myron'

From: 'Bee Thousand' (1994)

With a driving yet hyper-melodic bass line and a glorious middle eight, 'Echos Myron' is Guided by Voices' most joyous song. "I don't think it was ever about anything specific -- it was kind of like a victory song," said Pollard in former GBV bassist Jim Greer's excellent 'Guided by Voices: A Brief History: Twenty-One Years of Hunting Accidents in the Forests of Rock and Roll' biography on the band.

1

'Motor Away'

From: 'Alien Lanes' (1995)

Like Sinatra (and, um, Bon Jovi), Pollard has always done it his way. 'Motor Away' explains his rebel spirit better than any other song he's released. "When you motor away beyond the once-red lips / When you free yourself from the chance of a lifetime / You can be anyone they told you to / You can belittle every little voice that told you so." Sure, the lyrics have some of that classic Pollard abstractness to them, but the sentiment comes through loud and clear.