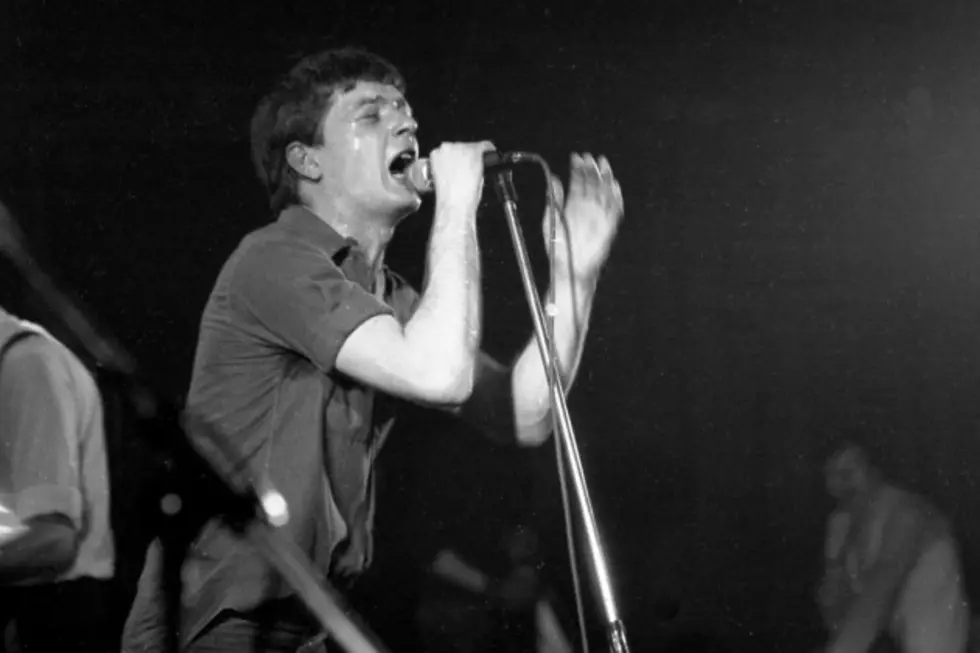 Remembering Joy Division's Ian Curtis on the Anniversary of His Death
Chris Mills, Redferns / Getty Images
There appears to exist among artists a deep connection between genius and sorrow. Sadly, this seems to have been the case with the late Joy Division singer Ian Curtis, who took his own life on May 18, 1980.
Before his untimely death, Curtis, along with the rest of Joy Division, made a massive impression on music that spans genres, from dark, industrial music to the pop songs dominating the Billboard charts. This influence is still prominent today, so much so that listing artists who count Joy Division, and Ian Curtis specifically, as an influence could be its own article -- or even website.
Curtis came of age in Manchester, England, during the dramatic rise and swift fall of English punk rock. As a child, Curtis proved himself to be bright, if not troubled. He won a scholarship to a famed private school at age 11, but left without graduating.
Curtis was an ardent music fan, but he was also often short on funds, so he would resort to nicking records from his local shop to keep up with his favorite artists, like David Bowie and Iggy Pop.
At a Sex Pistols show In 1976, Curtis met two fellows who would help transform his life. These guys were Bernard Sumner and Peter Hook, who were looking to put together a band, and Curtis convinced them to let him be their frontman. They later found drummer Stephen Morris, and Joy Division was formed.
At first, the band's name was Warsaw, but they changed it to avoid any confusion with short-lived punk band Warsaw Pakt, which formed around the same time. So they instead called themselves Joy Division -- a grim literary reference to a Nazi concentration camp.
They developed a unique sound that fused gloom and doom together with music that still, despite its dark disposition, encouraged people to dance. Curtis' slightly off-key baritone vocals would be imitated ad infinitum by many people to come after.
Joy Division gained the attention of British music mogul Tony Wilson after Curtis sent Wilson a letter berating him for not having the band on his TV show. Curtis' tactic worked, and the band appeared on his show in 1978.
Wilson signed the band to his label, Factory Records, and released their first full-length album, Unknown Pleasures, later that year, putting Joy Division on the path to critical success. This album included the song "She's Lost Control," as well as the artwork that is now wildly popular with people who have no idea where it comes from.
This success, however, wasn't enough to help Curtis overcome his personal demons. Curtis had been suffering from depression for some time, and then he began having terrible seizures. In 1979, he was diagnosed with epilepsy. The epilepsy became the source of many problems for Curtis, including exacerbating his mood swings.
It also began to make performing live incredibly difficult, as he would sometimes have seizures while on stage -- he would often dance in a manner that took after his seizures.
Curtis' personal life was also falling apart. He married his high school sweetheart Deborah Woodruff when he was 19, and the two of them soon had a daughter. His marriage, however, didn't work out, and Deborah filed for divorce.
Meanwhile, as Joy Division's popularity grew, so too did the pressure Curtis felt. His epilepsy was becoming more of a problem, and as a result, the band often had to cancel shows. On May 18, 1980, Joy Division were preparing to head out for their first U.S. tour when Curtis' wife found his body hanging in their home in Macclesfield. He was 23 years old.
After his death, Joy Division's second and final album, Closer, was released. It contained the band's highest charting single, "Love Will Tear Us Apart."
Following Curtis' suicide, Sumner, Hook and Morris formed New Order, which would go on to become one of the biggest bands in the world.
The Sad History of Rock N' Roll Suicides