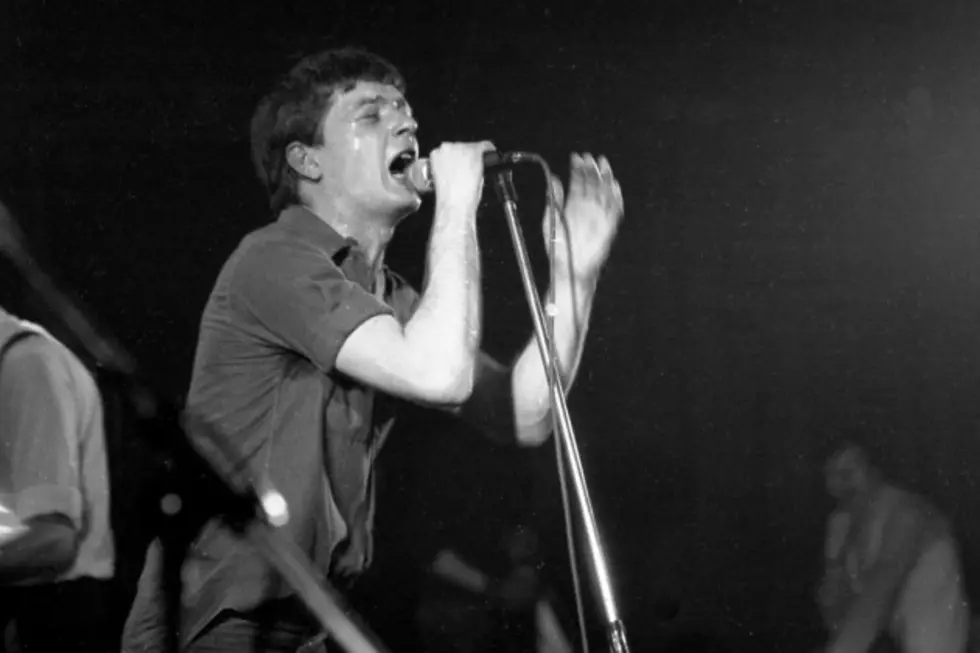 35 Years Ago: Joy Division Play Their Final Concert
Chris Mills, Redferns / Getty Images
On May 2, 1980, Joy Division took the stage at Birmingham University's High Hall for what would be their final concert. As fan David Pryke recalls, "They were very late! We hung around for a long time listening to ACR [A Certain Ratio, who opened] sound check. [It was] a mixed audience of students, punks and rockers."
When Joy Division finally took the stage, the band tore through 11 songs in 45 minutes, and used the show as an opportunity to debut a brand-new track, "Ceremony" -- this would be the only time Joy Division ever performed the song live, which eventually became New Order's debut single in 1981:
For fans who picked up tickets ahead of the show, they cost a cool £1.50 (about $2.50 today); they were £1.75 at the door.
About two weeks after the gig, on May 18, frontman Ian Curtis -- who reportedly had a tough time at the High Hall concert, having to be helped off the stage during the second-to-last song -- took his own life. Joy Division were set to hit the road for their first-ever North American tour on May 19.
Sadly, the place where Joy Division played their last-ever concert is no more; High Hall was eventually renamed Chamberlain Hall and, in January 2014, it was tore down (after sitting empty for six years). The legacy of the gig lives on, though, as the official soundboard recording was released as part of the 1981 compilation album, Still.
The last song of the night -- and the final song ever performed by Joy Division -- was "Digital," from the 1978 double-EP, A Factory Sample.
Thirty-five years later, looking back on the legacy of Joy Division and the historic moment of this concert, the lyrics (and Curtis' intense performance) take on an extra-haunting significance: "I need you here today / Don't ever fade away / Don't ever fade away / Fade away / Fade away / Fade away ..."
Joy Division -- Setlist, May 2, 1980
"Ceremony"
"Shadowplay"
"A Means to an End"
"Passover"
"New Dawn Fades"
"Twenty Four Hours"
"Transmission"
"Disorder"
"Isolation"
"Decades"