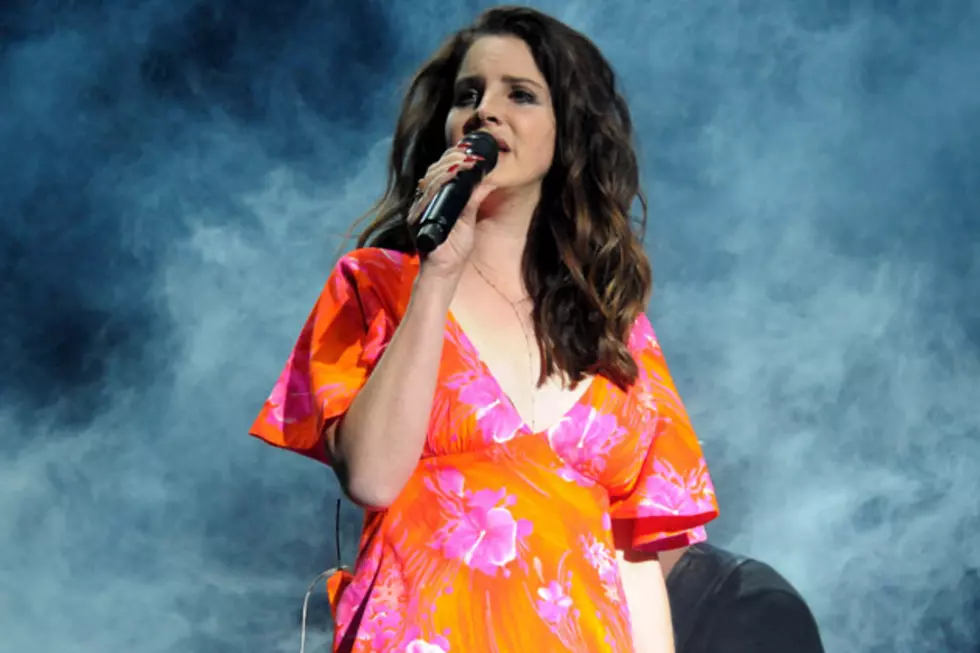 18 Facts You Probably Didn't Know About Lana Del Rey
Katie Stratton, Getty Images
When it comes to Lana Del Rey, the singer who seemingly appeared out of nowhere in 2011 after her "Video Games' video went viral, finding the central truth to a story so shrouded in rumors, conjecture and myth-making seems nearly impossible. Was she born into "old money" and spent her youth going to posh boarding schools and hanging at the Chateau Marmont in L.A.? Or did she spend time living in a trailer park, unable to afford Coca Puffs? Was her sudden rise to fame carefully plotted in a record label boardroom, or did she organically find success after posting some homemade videos on YouTube? Either way, there's enough mystery in her backstory to make her a Bob Dylan for the 21st century. The real truth behind the Lana Del Rey story probably falls somewhere in the middle of it all. But one thing's for certain: She's lived an interesting life, and it's a life surely to get even more attention with the release of her latest album, 'Ultraviolence,' which recently debuted atop the Billboard album chart. As for the following facts about Del Rey, we are just as convinced that they are true as we're convinced that you probably don't know them. If we're wrong about either, go ahead and let us know. It's OK, we can take it.
1

Born Elizabeth Woolridge Grant, Del Rey adopted a variety of stage names -- Sparkle Jump Rope Queen, May Jailer and more -- before settling on her now-famous moniker. She even independently recorded (and then scrapped) an album titled 'Sirens' under the name May Jailer that has since surfaced online.

2

The name Lana Del Rey is an amalgam of the actress Lana Turner and the somewhat obscure '80s automobile the Ford Del Rey. She liked the moniker because it "reminded [her] of the glamor of the seaside."

3

Two of her biggest musical influences are the wildly disparate Kurt Cobain and Britney Spears. "I thought he was the most beautiful person I had ever seen," she once said of Cobain. As for Spears, "There is something about Britney that compelled me."

Frank Micelotta, Getty Images

Frank Micelotta, Getty Images

4

She's huge on YouTube, where her classic videos like 'Summertime Sadness' have snagged upward of 100 million views each. But don't expect to find her controversial 2012 'Video Games' performance from 'Saturday Night Live' on there. Any time it's posted, it's immediately yanked.

5

Although her record label didn't initially support 'Video Games' as the first single off 'Born to Die,' its success on YouTube made it hard to ignore. "I think the video changed everyone's mind," says Justin Parker, who co-wrote the tune. "They had no choice, they had to release it."

6

She insists she found and spliced together the vintage footage in her 'Video Games' video herself, but rumors persist that the clip was created by her record label's art department in an attempt to establish her "retro" vibe.

7

Are those legendarily large lips real, or the result of injections? Del Rey insists it's the former. "I haven't had anything done at all. Anyone who's known me will tell you that … I'm quite pouty."

8

After the unexpected breakthrough success of 'Born to Die,' she shocked her new fan base by suggesting that she was done with music for good. "I don't think I'll write another record," she told Vogue in 2012. "What would I say? I feel like everything I wanted to say, I've said already."

9

For all the noise she made about wanting to stay out of the spotlight, Del Rey certainly had no problem showing her face in ads for Jaguar and H&M, as well as releasing a line of Mulberry luxury handbags.

10

Her younger sister Caroline "Chuck" Grant, who studied photography at New York City's Parsons School for Design, made a cameo as a biker chick in the 'Ride' video.

11

While her sister attended Parsons, Del Rey was a student at nearby Fordham University, and the two shared an apartment. Del Rey majored in metaphysics, specializing in what she once called "working out whether we could mathematically prove God's existence."

12

She spent two years of her 'Born to Die' tour suffering from an undiagnosed medical condition that still haunts her. "That's a big part of my life: I just feel really sick a lot of the time and can't figure out why," she once said.

13

Born in New York City and raised in upstate New York, she often spends her time in London with on-again, off-again boyfriend Barrie-James O'Neill, who used to be in the Scottish indie-folk band Kassidy.

14

Despite accusations that portions of 'Video Games' were lifted from a 1991 Greek song called 'Dromoi Agapisa Pou,' no legal action was ever taken against her.

15

Besides recording the occasional cover song for a movie soundtrack or teaming up with a co-writer once in a while, Del Rey insists that she writes all her music and pens all her lyrics herself.

16

She smokes Camel cigarettes consistently, but good luck finding many pictures of her puffing on a butt.

17

Her first introduction to singing was in the church choir while living in Lake Placid, N.Y., which is where her interest in music was first piqued.

18

'Shades of Cool,' the latest video from her new 'Ultraviolence' album, continued the singer's YouTube hit parade, registering nearly six million views in its first two weeks online.