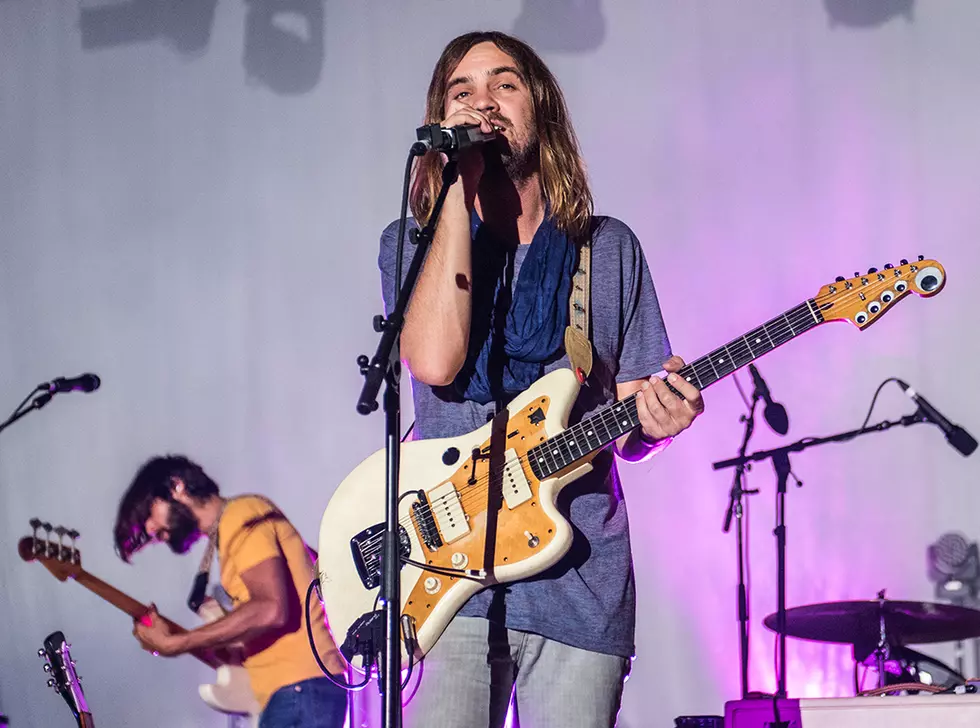 Levitation 2015 Photo Gallery: Day One — Tame Impala, Metz + More
David Brendan Hall, Diffuser
Levitation. That's the new name adopted by Austin Psych Fest to rebrand the multi-day music gathering for its eighth year -- and its third at the Lone Star State capital city's Carson Creek Ranch -- in the midst of an international expansion that brings the genre-specific event to Chicago, Vancouver and (for its second consecutive edition) France. It's a term that might allude to an elevated state of mind, and may or may not be induced by certain substances.
Yet, it also simply evokes the idea of uplifted spirits via live music, a communal satisfaction that certainly took hold by the time Australia's Tame Impala put the finishing touches on their main stage set to close Day 1 (Friday, May 8).
"This is beautiful," frontman Kevin Parker said to the crowd, pausing to look out at the sprawling, transfixed audience near the show's conclusion. "Who'd've thought?"
His interjection and reflection referred to the fact that the event's first of three days was largely plagued by rain and a subsequent minefield of mud pits. The inherent stress of staying dry and not face-planting into the six-inch-deep sludge made it hard to enjoy the formidable, standard fuzzed-out early acts (White Manna, Hundred Visions, Ringo Deathstarr -- all making for a fairly heavy intro to the day), while increasing the appeal of a couple lesser known groups playing under cover of the Levitation tent (see: the flower-powered Mr. Elevator & the Brain Hotel and synth-nerd quartet Survive).
By the same token, several bands benefited from the wave of calm that set in after the rain finally subsided. Mini Mansions -- side project of Queens of the Stone Age bassist Michael Shuman -- drew sizably as the sun peaked through the clouds, the trio's strength stemming largely from the darkly melodic tunes off just-released sophomore album The Great Pretenders.
Local rockers Holy Wave attracted an even bigger mob to the much smaller Elevation stage (previously the riverside amphitheater before flooding forced organizers to move it inland). Their sunset show was truly triumphant; they play virtually every week for their Austinite friends at Hotel Vegas or some other dive-y venue, but this crowd comprised a fair amount of international onlookers. The way they expertly executed a set exuding heaviness, liveliness and joyousness all at once was the very definition of grabbing the bull by its horns. We won't be surprised if this gig marks the liftoff for their long-term career.
New York dream-pop outfit DIIV likewise didn't squander their chance for widespread exposure. Their set comprised mainly new songs from upcoming sophomore album Is the Is Are, which -- as revealed by frontman Zachary Cole Smith in a quick aside -- is set for a September '15 release. Despite an awkward stage presence -- Smith repeatedly thanked his girlfriend Sky Ferreira and re-introduced the band and their origin city no less than a dozen times -- they performed the more New Wave-inspired cuts with an overt air of professionalism and bliss.
Rhode Island-based duo Lightning Bolt meanwhile delivered its usual maelstrom of unintelligible, maddeningly aggressive noise rock on the tent stage, while Spiritualized -- though their songwriting remains splendidly beautiful and insightful -- nearly lulled a mass of (im)patiently waiting Tame Impala fans to sleep.
So it was even more fitting that Parker's comment about the day's turnaround followed a wonderfully spacey 10-minute jam on Lonerism opener "Be Above It"; the rising Aussie outfit -- who just hypnotized two weekends worth of fans on the markedly more massive Coachella main stage -- were determined to radiate as much positivity at the day's end as possible.
For some, that was achieved amidst the punk-infused brutality of Canadian trio Metz over in the much less crowded tent, but Tame Impala pulled it off with a wistful flair fitting for a band destined to rule the contemporary psych scene.
"We've been wanting to play this festival for a long time," Parker admitted. "We've basically been hearing about it for our entire career and wondered why we hadn't played it."
Surely, a fair of amount of fans with their fingers on the pulse harbored the same thought, and the band rewarded them with some old favorites ("It Is Not Meant To Be" and "Alter Ego") and the live debut of a new track, off upcoming third album Currents, dubbed "Eventually." Contrary to that tune's title, the elation born of its meandering synths and heavy guitar riff accents was immediate. That feeling was only compounded by the realization that a new day full of shining sun (and -- fingers crossed -- dry ground) was just over the horizon.