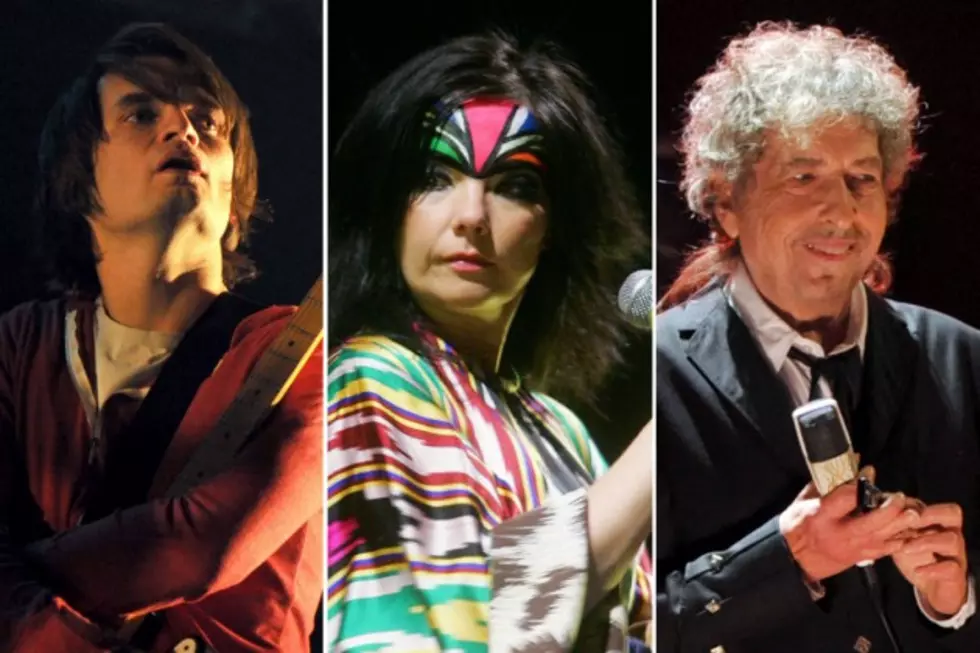 November 2015 – New Music Releases
Kevin Winter (2) / China Photos, Getty Images
If you're looking for new music to soundtrack your Thanksgiving dinner, November has some contenders coming up.
Björk's intricate Vulnicura might not be what you ordinarily would have in mind, but perhaps the forthcoming all-strings version of her beautiful breakup album will be better suited. That's due out on Nov. 6, along with the latest installment of Bob Dylan's Bootleg Series.
While Radiohead work on their highly anticipated follow-up to The King of Limbs, guitarist Jonny Greenwood is set to release a collaboration album with Israeli composer Shye Ben Tzur and the Indian music collective the Rajastahn Express. That album serves as a soundtrack to Junun, the documentary that chronicled its making.
November will also see a live album from Deerhoof, a solo LP from Swans' Norman Westberg and the debut of Pope Francis -- and yes, you read that last one right. Check out a complete list of upcoming releases below:
Björk – Vulnicura Strings
Bob Dylan – The Cutting Edge 1965-1966: The Bootleg Series Vol. 12

ELO – Alone in the Universe
Norman Westberg – 13
Shye Ben Tzur, Jonny Greenwood and the Rajasthan Express – Junun
The Most Serene Republic – Mediac
Wreckless Eric – amERICa

Martin Crane – Physical Therapy

Deerhoof – Fever 121614
Pope Francis – Wake Up!

Jennylee – Right On!
Lizzo – Big GRRRL World
Baroness – Purple
Suede – Night Thoughts