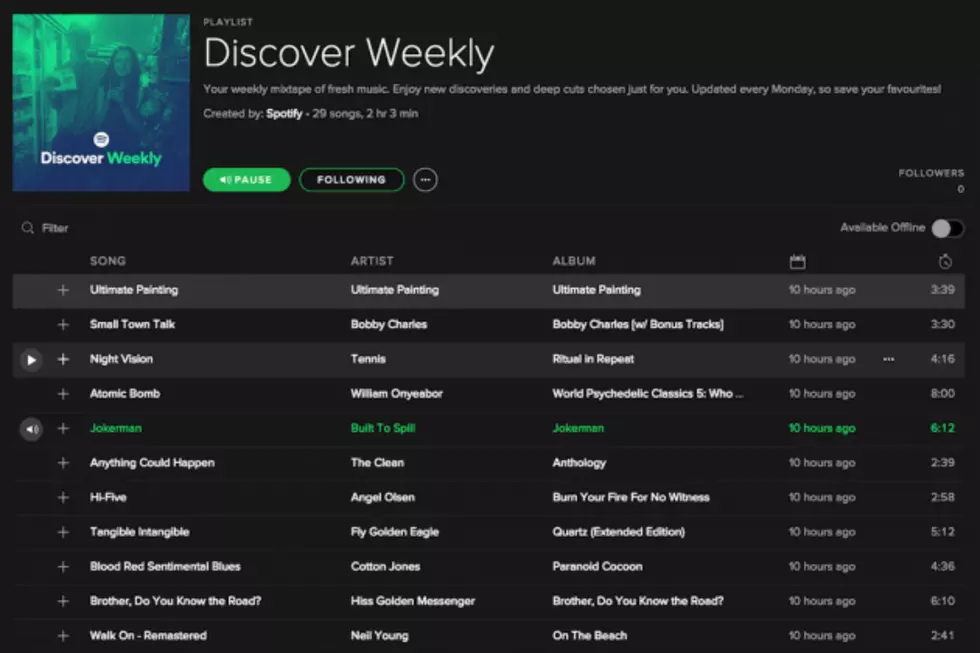 Spotify's New Discover Weekly Feature Creates a Playlist Based on Your Tastes
Spotify
The Great Streaming Service War of 2015 is being waged more and more on the battlefield of curation. That makes sense, of course, because most users, bored with the same old thing, likely gravitate to areas where they can hear the most dynamic music mix that demands the smallest amount of work on their part.
As far as that's concerned, Apple Music has a pretty big advantage with their For You page, stocked as it is with countless human-engineered playlists targeted toward genre and artists. Spotify's Discover page is pretty robust with artist recommendations, but light on the kind of curated selection mixes that make hearing new music fun and easy.
Spotify's new Discover Weekly feature aims to boost their curation quotient by creating -- via algorithm -- a playlist for each user that delivers 30 tracks based on their listening habits and the habits of similar users. Every week, the playlist is updated to include different tracks.
After looking around for the Discover Weekly feature in the desktop app for a good 20 minutes, I saw that a new playlist called "Discover Weekly" had suddenly appeared at the top of my list of playlists. I found it to be a really smart feature. I'm a Spotify superuser -- between Spotify and Apple Music (I'm still on the free trial), I probably spend between six and twelve hours streaming music, either as a backdrop for writing, walking to work or prepping for my weekly internet radio show. And my taste is eclectic, ranging from folk to drone, '60s psych to Americana, jazz to noise and so on.
So I was pleased to find that my first Discover Weekly playlist was a mix of '70s Afropop, Dylan covers, electronic freakouts and new music from local indie bands; I'd only heard of about 50 percent of the artists, and I'd only listened to about 10 percent of the songs before.
The major difference in Spotify's and Apple Music's strategies comes down to machine (Spotify's algorithm-centric playlists) vs. man (Apple Music's expert-curated playlists). But Spotify is adamant that just because a playlist is created by a person doesn't mean it's better.
"We think the whole man versus machine thing is a moot point," Matt Ogle, the product manager who oversees Discover Weekly, told the Wall Street Journal. "While Discover Weekly playlists aren't made by humans, they're directly inspired by the way users listen to music."