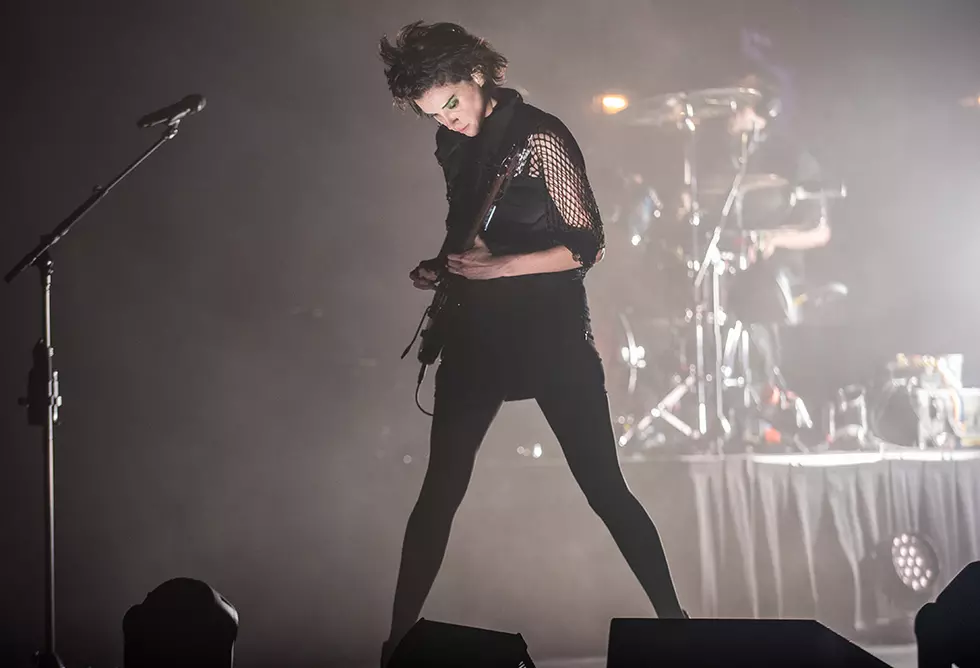 St. Vincent Taps Dallas Symphony Orchestra For Spectacular One-Off Gig
David Brendan Hall, Diffuser
If you've caught any gig on St. Vincent's recent tour behind her Grammy-winning self-titled fourth album, you've heard her now-routine salutations directed toward "the freaks" of each audience. More than halfway through Sunday's (May 17) appearance in Dallas (check out our exclusive photos in the gallery above), she delivered that line as usual, then likewise extended hellos to all the "truants … the dominated and dominatrixes."
"We have so much in common," added the artist, born Annie Clark, who grew up in Dallas and graduated from nearby Lake Highlands High School in 2001.
Cheers rang out at the mention of Bill's Records, the Garland Road thrift store, former Dallas Cowboy Leon Lett's bungled play in the 2001 Super Bowl and the inevitably shared experience of waking up in "a Texas thunderstorm so violent and cacophonous you thought the world was ending" -- highly relevant given the week's stormy weather, which forced this show's move from the AT&T Performing Arts Center's Strauss Square to this elegant indoor space.
And thank goodness for that switch -- the setting couldn't have been more perfectly suited to the occasion: a one-off collaboration during the set's second half with the Dallas Symphony Orchestra. Before that, Clark served up the usual (yet inherently unusual) fare from this tour: a career-spanning assortment of songs with her three-piece backing band that underscored her equal talents in performance art, spellbinding singing and guitar heroics.
Her role as a creepily beautiful wind-up doll hit home during the highly choreographed march of "Bring Me Your Loves" and a group of background dancers on "Actor Out of Work" – invisible if you blinked too quickly amid a storm of strobes – added a trippy theatrical element. Sans guitar, her pitch-perfect singing rose to a stunning falsetto during the live debut of 'Teenage Talk," originally penned for television series 'Girls' and clearly intended this night as a locals-only special given its nostalgic lyric "Drank so much that night / Carved the state of Texas in our forearms." And the way each flurry of frenetic fretwork during set opener "Birth in Reverse" generated a sort of emotional call-and-response between her and the fans – not to mention the solo tone on "Rattlesnake" stemming from her veritable abuse of the strings and whammy bar – certified her status as one of this era's sharpest shredders.
That dramatic lead-in made the addition of the Dallas Symphony Orchestra (conducted by Karina Canellakis) that much more overwhelmingly terrific. The expansive ensemble began without Clark by drumming up a dreamy rendition of her 2011 classical composition, "Proven Badlands," then she rejoined for booming versions of "Cheerleader" and "Marrow," followed by a pleasant, strings-heavy take on "I Prefer Your Love." It was after that gentle serenade that Clark made her welcome speech, wrapping up the hypothetical apocalyptic thunderstorm anecdote with the most meaningful line, "But it ended, and your hands were still your hands … your face was still your face. And you went right back to pretending to be yourself."
Truly, the next three songs mirrored the "violent and cacophonous," epiphany-inducing metaphor: woodwinds and strings echoed Clark's guitar on "Digital Witness" to create an engrossingly loud soundscape, "Cruel" – which saw Clark change quickly into a white jumpsuit to match the orchestral players – became thrice as anthemic with its myriad extra layers, and "Huey Newton" built steadily with nuanced horns (a nod to 2012 David Byrne collaboration Love This Giant), sweeping strings, and an amped-up trumpet burst that signaled the entire orchestra to join for an explosive ending.
A one-song encore of "The Party" – these days, a rare live treat – served as the calm after the storm and, more than any other moment, proved that Clark is among the last decade's most gifted artists (beyond basic musicianship). That final tune felt like an isolated theatrical vignette, an epilogue of sorts: wearing a long, semi-sheer black gown, she was placed center stage on a white-sheeted stretcher under a bright spotlight, singing softly while an encirclement of three violinists played along with her band mate's scaled-back keyboard.
After the final verse, she rose like a darkly clad angel fallen to earth, singing the ending ooh, ooh's in harmony with the surrounding strings. Afterward, the entire orchestra filed out for a customary bow, followed by the band, and finally just Clark. It was fitting that she took her bow alone: here was the artistic master without her trappings, soaking up all the praise she deserved for gifting us the truest expression of herself – brilliant, even if it was all pretend.
St. Vincent -- Setlist, May 17, 2015
"Birth In Reverse"
"Regret"
"Rattlesnake"
"Actor Out of Work"
"Laughing With a Mouth of Blood"
"Surgeon"
"Teenage Talk"
"Year of the Tiger"
"Bring Me Your Loves"
"Prince Johnny"
With the Dallas Symphony Orchestra
"Proven Badlands" (orchestra only)
"Cheerleader"
"Marrow"
"I Prefer Your Love"
"Digital Witness"
"Cruel"
"Huey Newton"