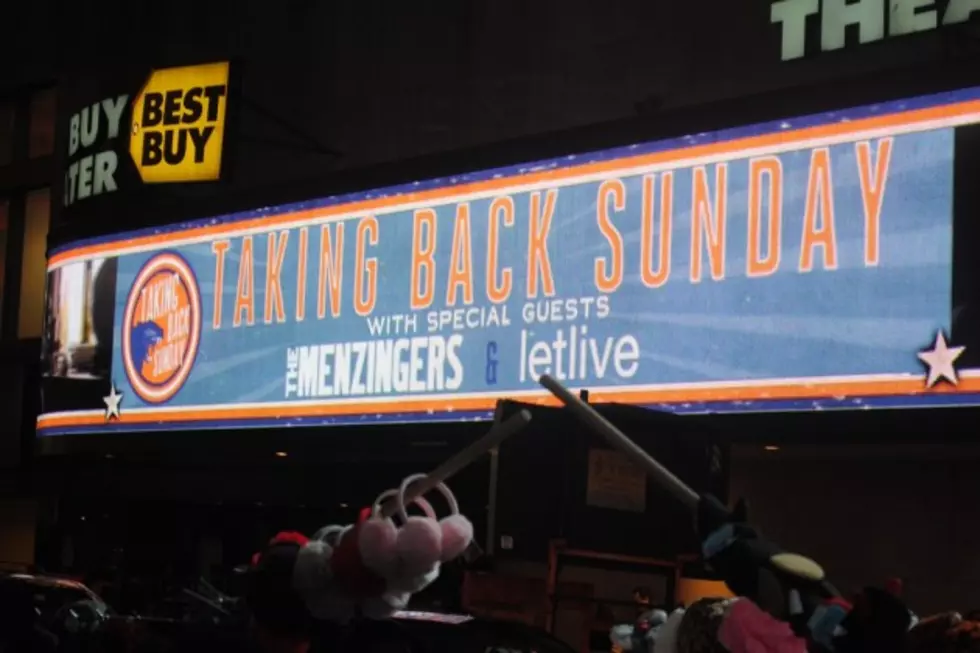 The Menzingers Electrify New York City's Best Buy Theater
Michael Haskoor, Diffuser
Last night (March 18) at New York City's Best Buy Theater in Time Square, Taking Back Sunday, the Menzingers and Letlive came together and performed some of the best sets we've ever seen from each of them. In particular, the Menzingers caught our attention and the Scranton punk outfit delivered enthusiastic performances of nearly every one of their most memorable tracks. Although they weren't the headliners, they performed like they deserve to be, giving it their all and leaving nothing behind.
Letlive opened the show with frontman Jason Aalon Alexander Butler diving into the crowd, singing throughout the audience, crowd surfing and even delivering an a cappella version of the Notorious B.I.G.'s "Juicy." It was a very "out there" set, but the pit showed a core set of dedicated fans, some of whom may have even showed up just for them. Towards the end of the set, Butler asked for a circle pit and the crowd delivered.
When the Menzingers took the stage, the crowd was pumped, to say the least. They opened with "Rodent," one of the riff-heavy tracks from their latest, Rented World, followed by "The Obituaries" (which you can watch below). Their set list (also below) also included songs from 2012's On The Impossible Past. Tom May, one of the band's two vocalists, was all over the stage as usual -- spinning and jumping, getting the crowd into their set. Vocalist-guitarist Greg Barnett delivered vocals that were near album quality and demonstrated guitar skills that show a band it for the long haul.
When they played the opening riff of "Good Things," the crowd erupted with excitement. The sold-out venue was still filling up with straggling Taking Back Sunday fans, but Menzingers fans were focused on the electrifying set. The tracks from Rented World including singles "I Don't Wanna Be an Asshole Anymore" and "In Remission" showed the band's more mature side in a live setting as they continue to grow and evolve.
Headliners Taking Back Sunday played an expansive set spanning nearly all of their discography. Frontman Adam Lazzara explained the personal story behind one of the band's newer tracks, "Better Homes and Gardens" from last year's Happiness Is, which turned out to be one of the best songs of the set, which also included a bunch of songs from their 2002 debut, Tell All Your Friends, including "You're So Last Summer" and "Cute Without the 'E'." Still, the Menzingers were the highlight of the show and it's hard to imagine not seeing them on their own headlining tour very soon.
1. "Rodent"
2. "The Obituaries"
3. "My Friend Kyle"
4. "I Was Born"
5. "Good Things"
6. "Burn After Writing"
7. "Where Your Heartache Exists"
8. "Nice Things"
9. "Casey"
10. "I Don't Wanna Be An Asshole Anymore"
11. "The Talk"
12. "Gates"
13. "In Remission"
 The Menzingers -- "The Obituaries" (Live at Best Buy Theater)