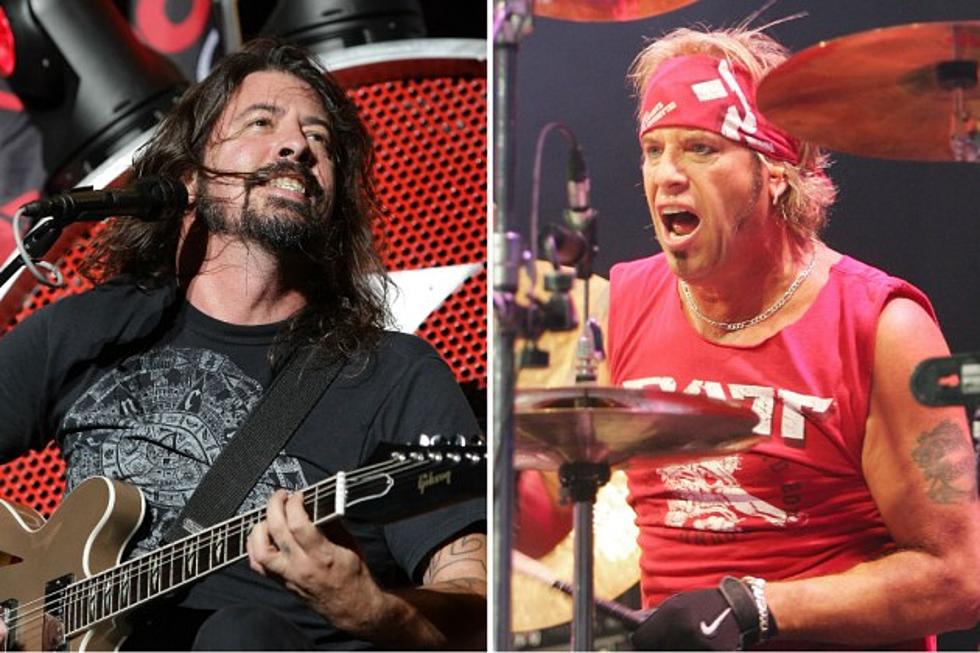 Watch Foo Fighters + RATT's Bobby Blotzer Cover Queen's 'Tie Your Mother Down'
Chung Sung-Jun / Ethan Miller, Getty Images
On Sunday (Oct. 18), Foo Fighters played their final U.S. date at the Love Ride festival in Castaic, Calif., and there, they made sure to bring out one last special guest for their North American jaunt: RATT drummer Bobby Blotzer.
Foo Fighters and Blotzer tackled a cover of Queen's "Tie Your Mother Down." While Blotzer sat in on drums, Taylor Hawkins took over lead vocals. Check out a couple clips of the performance at the bottom of the page. Following the set, Blotzer took to Facebook, calling Dave Grohl and company a "five star" act:
I was happy to be invited out to see my long time friends Foo Fighters at Sunday's annual Love Ride in Castaic, California. They are truly one of the five star bands around and it was especially cool to be invited up to jam with them. They told me they had seen the new YouTube videos of RATT and that they thought it sounded great. I told Dave & Taylor that we would love to do some dates with them.
With the North American leg of their tour behind them, Foo Fighters will head to Europe for a string of dates in November. See a complete list of upcoming stops at the band's website.
While the Foos have been on a virtually non-stop victory lap behind last year's Sonic Highways, they've still managed to find time to record material for a follow-up. During their headling set at Austin City Limits earlier this moth, Grohl revealed the band has recorded five new songs with Ben Kweller.
"I was happy to be invited out to see my long time friends Foo Fighters at Sunday's annual Love Ride in Castaic, California. They are truly one of the five star bands around and it was especially cool to be invited up to jam with them. They told me they had seen the new YouTube videos of RATT and that they thought it sounded great. I told Dave & Taylor that we would love to do some dates with them. Enjoy this cell phone video"BB

Posted by RATT on Sunday, October 18, 2015