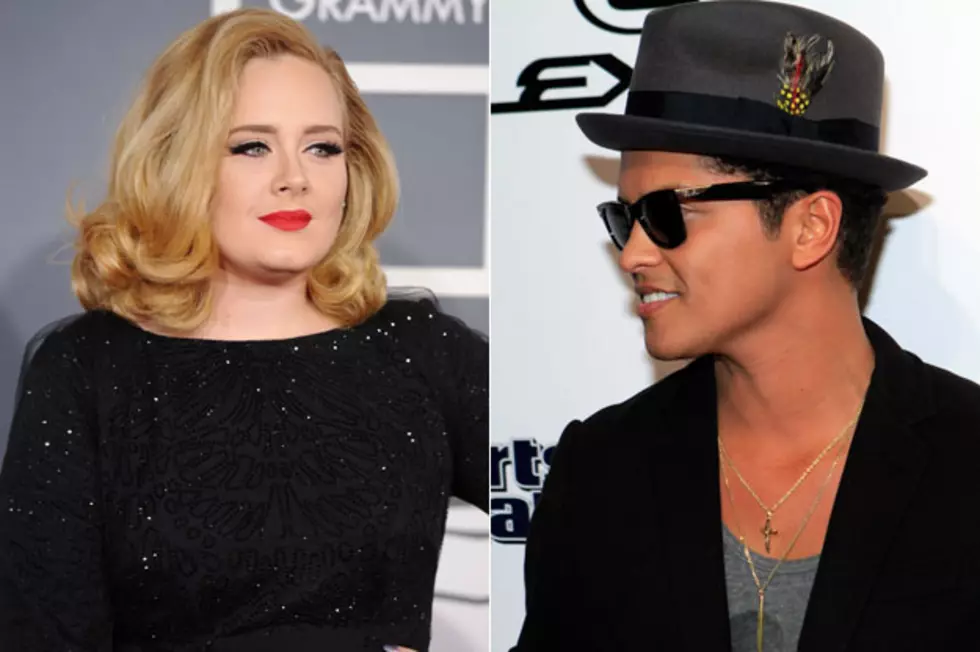 Adele vs. Bruno Mars – Song Parallels
Adele has sold more records than anyone over the past couple of years, and her singles have been darn near inescapable; over the next couple of decades, we won't be surprised to hear a long list of young artists claiming her music as an influence. But judging from the chorus of one of Bruno Mars' biggest hits, Adele's success might already be exerting a major impact on her fellow songwriters.
The song in question? 'It Will Rain,' the track Mars recorded for the soundtrack to 'The Twilight Saga: Breaking Dawn – Part 1.' Although Rolling Stone's Simon Vozick-Levinson thought it sounded "a little bit" like the Rolling Stones hit 'Wild Horses,' to many listeners, the chorus to 'It Will Rain' sounded a whole lot like a much more contemporary hit: Adele's 'Chasing Pavements.'
Co-written by Adele and Eg White, 'Chasing Pavements' catapulted the British singer to worldwide fame, largely on the strength of its giant chorus -- with its soaring, addictively plaintive melody and Adele's larger-than-life voice, it provides the perfect melodic release for a song about being at a painful emotional crossroads. Mars and his co-writers seem to have agreed, roughly copying the 'Pavements' template for their own tale of perseverance in the face of hopelessly romantic odds.
'Chasing Pavements' earned greater critical acclaim -- and a trio of Grammy nominations -- but 'It Will Rain' reached greater heights on the Billboard Hot 100, where it stalled out at No. 3. For our money, that chorus melody is big enough to share, but have a listen to these song clips and let us know what you think. Is there more than a passing similarity between the two?
Listen to Adele, 'Chasing Pavements'
Listen to Bruno Mars, 'It Will Rain'