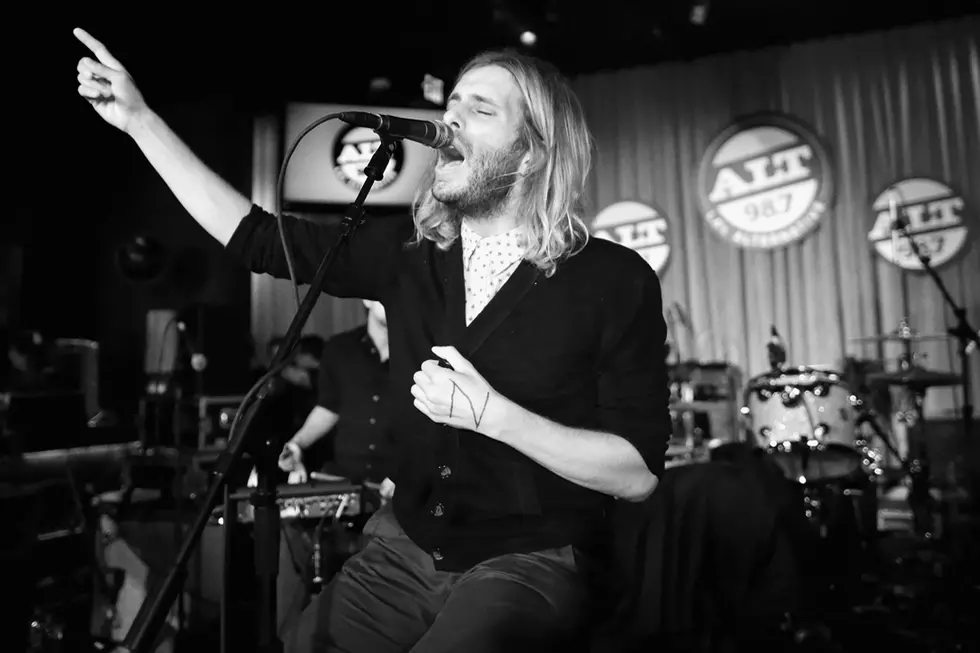 Awolnation Announce Spring and Summer 2015 Tour Dates
Christopher Polk, Getty Images
With the release of their upcoming sophomore album, Run, on the way, Awolnation have announced a massive list of tour dates.
Kicking off later this week at the Pot of Gold Music Festival in Tempe, Ariz., the Los Angeles band will hit up major festivals like Firefly, Bonnaroo and SXSW while also heading to Europe for a number of dates with stops in Paris, Amsterdam, London and Berlin.  They'll then return to North America and venture all over the U.S. and Canada. The last date they announced is a performance at the Kaaboo Music Festival in San Diego on Sept. 19.
Run will be released March 17 via Red Bull Records and the band just released a video for their single, "Windows," which you can watch below.
March 13 - Pot of Gold Music Festival - Tempe, Ariz.
March 15 - Q101 Show at Cubby Bear - Chicago
March 19 - ACL Live at The Moody Theater - Austin
March 24 - Lido - Berlin
March 25 - PPC - Graz, Austria
March 26 - Freiheiz - Munich, Germany
March 27 - M4music Festival - Zurich, Switzerland
March 28 - Burgerhaus Stollwerk - Cologne, Germany
March 30 - Le Divan Du Monde - Paris
March 31 - Melkweg - Amsterdam
April 1 - Electric Ballroom - London
April 18 - Buzzfest - Woodlands, Texas
April 24 - KMYZ Radio Show at Brady Theater - Tulsa, Okla.
April 25 - Edgefest at Toyota Stadium - Frisco, Texas
May 1 - Beale Street Music Festival - Memphis
May 3 - Sunfest - West Palm Beach, Fla.
May 8 - Big Guava Music Festival - Tampa, Fla.
May 10 - WRFF Annual Birthday - Philadelphia
May 28 - Commodore Ballroom - Vancouver
May 29 - Roseland - Portland, Ore.
May 30 - McDonald Theatre - Eugene, Ore.
May 31 - BottleRock Music Festival - Napa Valley, Calif.
June 2 - The Catalyst - Santa Cruz, Calif.
June 3 - House of Blues - San Diego
June 5 - The Aztec Theater - San Antonio
June 6 - The Diamond Ballroom - Oklahoma City, Okla.
June 9 - Iron City - Birmingham, Ala.
June 10 - House of Blues - New Orleans
June 12 - House of Blues- North Myrtle Beach, S.C.
June 13 - The Tabernacle - Atlanta
June 14 - Bonnaroo Music & Arts Festival - Manchester, Tenn.
June 16 - The National - Richmond, Va.
June 18 - The Fillmore Silver Spring - Silver Spring, Md.
June 19 - Firefly Music Festival - Dover, Del.
June 22 - Phoenix Concert Theatre - Toronto
June 23 - Metropolis - Montreal
June 25 - House of Blues - Boston
June 27 - Irving Plaza - New York City
June 28 - Town Ballroom - Buffalo, N.Y.
June 30 - House of Blues - Cleveland
July 1 - Bogart's - Cincinnati
July 2 - The Fillmore Detroit - Detroit
July 5 - The Garrick Centre - Winnipeg, Manitoba
July 7 - Union Hall - Edmonton, Alberta
July 8 - Flames Central - Calgary, Alberta
July 19 - Egyptian Room - Indianapolis, Ind.
July 21 - Cabooze Outdoor Plaza - Minneapolis, Minn.
July 23 - House of Blues - Chicago
July 25 - KRBZ's Annual Radio Show Beach - Kansas City, Kan.
July 26 - Sokol Auditorium - Omaha, Neb.
July 28 - Aggie Theatre - Fort Collins, Colo.
July 30 - Knitting Factory - Reno
Aug. 1 - Hollywood Palladium - Los Angeles
Sept. 19 - Kaaboo Music Festival - San Diego
Awolnation -- "Windows" Video