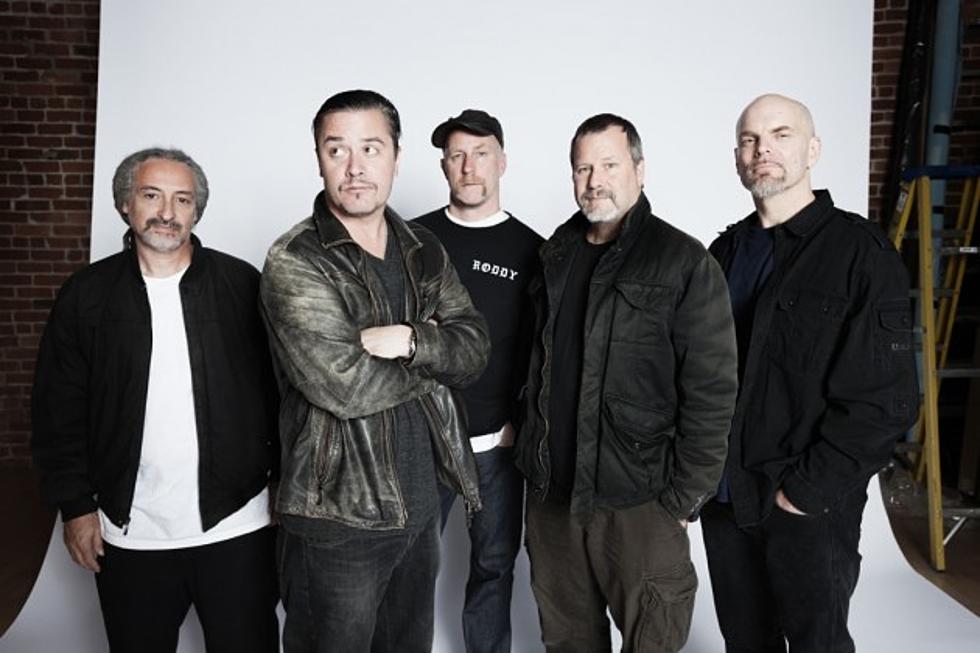 Faith No More to Release Deluxe Reissues of 'The Real Thing' and 'Angel Dust'
Dustin Rabin
Rhino has just announced plans to release expanded, double-disc reissues of two classic Faith No More albums: 1989's The Real Thing and 1992's Angel Dust. Both titles come packed with bonus material in the form of bonus discs. The CD editions arrive June 9, while double-LP, 180-gram heavyweight vinyl pressings are scheduled for release in August. See the full track listing below.
The Real Thing was Faith No More's first album to include Mike Patton after the firing of vocalist Chuck Mosley, and it marked a significant turning point in the band's career. Boosted in part by MTV's heavy-rotation video for "Epic," The Real Thing became an international breakout success and remains the band's highest selling album to date. But Faith No More kicked its artistic ambitions into high gear when it responded to success with the complex Angel Dust. The new reissued version will include the band's surprisingly earnest and rather moving rendition of the Commodores love ballad, "Easy," (which was released as a non-LP single at the time) along with a slew of live goodies and assorted rarities, including covers and alternate mixes.
Faith No More's first proper U.S. tour since reuniting in 2009 kicked off last week in Vancouver, BC. For the complete list of dates, click here.
THE REAL THING
Track Listing
Disc One: Original Album
1. "From Out Of Nowhere"
2. "Epic"
3. "Falling To Pieces"
4. "Surprise You're Dead"
5. "Zombie Eaters"
6. "The Real Thing"
7. "Underwater Love"
8. "The Morning After"
9. "Woodpecker From Mars"
10. "War Pigs"
11. "Edge Of The World"
Disc Two: Bonus Disc
1. Sweet Emotion (Taken from Kerrang! Flexible Fiend)
2. Epic (Radio Remix Edit) (Taken from the 'Epic' Promotional CD single)
3. Falling To Pieces (Matt Wallace Remix) (Taken from the 'Falling To Pieces' 12″ single)
4. Cowboy Song (B-side) (Taken from the b-side of 'From Out Of Nowhere' single)
5. The Grade (B-side) (Taken from the b-side of 'From Out Of Nowhere' 12″ single)
6. From Out Of Nowhere (Extended Remix) (Taken from the 'From Out Of Nowhere' 12″ single)
7. War Pigs (Live Berlin 11.9.1989) (Iommi/Ward/Butler/Osbourne) Westminster Music Ltd.
(Taken from the b-side of 'Epic' 12″ single)
8. Surprise You're Dead (Live Sheffield) (Taken from the b-side of 'Epic' 12″ single)
9. Chinese Arithmetic (Live Sheffield) (Taken from the b-side of 'Epic' 12″ single)
10. Underwater Love (Live at Brixton Academy, London 28 April 1990) (Taken from the b-side of 'Falling To Pieces' 12″ single)
11. As The Worms Turns (Live at Brixton Academy, London 28 April 1990) (Taken from the video for "You Fat B**tards")
Disc One: Original Album
1. "Land Of Sunshine"
2. "Caffeine"
3. "Midlife Crisis"
4. "R.V."
5. "Smaller And Smaller"
6. "Everything's Ruined"
7. "Malpractice"
8. "Kindergarten"
9. "Be Aggressive"
10. "A Small Victory"
11. "Crack Hitler"
12. "Jizzlobber"
13. "Midnight Cowboy"
14. "Easy"
Disc Two: Bonus Disc
1. Easy (Cooler Version) (Lionel Ritchie) (Taken from the 'I'm Easy' CD single)
2. Das Schutzenfest (German version) (Taken from the 'I'm Easy' CD single)
3. As The Worm Turns (Mike Patton vocal / Japan bonus track) (Taken from the Japanese edition of "Angel Dust")
4. Let's Lynch The Landlord (B-Side) (Jello Biafra) (Taken from the 'A Small Victory' single)
5. Midlife Crisis (The Scream Mix) Remixed by Matt Wallace (Taken from the bonus 12″ included with "Angel Dust" LP)
6. A Small Victory (R-Evolution 23 (Full Moon) Mix) (Taken from the 'A Small Victory' 12″ single)
7. Easy (Live Munich 9th November 1992) ((Lionel Ritchie) (Taken from the 'I'm Easy' CD single)
8. Be Aggressive (Live Munich 9th November 1992) (Taken from the b-side of 'I'm Easy' CD single)
9. Kindergarten (Live Munich 9th November 1992) (Taken from the b-side of 'I'm Easy' CD single)
10. A Small Victory (Live Munich 9th November 1992) (Taken from the b-side of 'I'm Easy' CD single)]
11. Mark Bowen (Live Munich 9th November 1992) (Taken from the b-side of 'I'm Easy' CD single)
12. We Care A Lot (Live Munich 9th November 1992) (Taken from the b-side of 'I'm Easy' CD single)
13. Midlife Crisis (Live Dekalb, Ill. 20th September 1992) (Taken from the b-side of 'Everything's Ruined' CD single)
14. Land Of Sunshine (Live Dekalb, Ill. 20th September 1992) (Taken from the b-side of 'Everything's Ruined' CD single)
15. Edge of The World (Live St. Louis 18th September 1992) (Taken from the b-side of 'Everything's Ruined' CD single)
16. R.V. (Live Dekalb, Ill. 20th September 1992) (Taken from the b-side of 'Everything's Ruined' CD single)
17. The World Is Yours (Outtake from Angel Dust sessions) (Taken from the album "Who Cares A Lot? The Greatest Hits)
Faith No More – "Superhero" (Live at Amoeba Records)