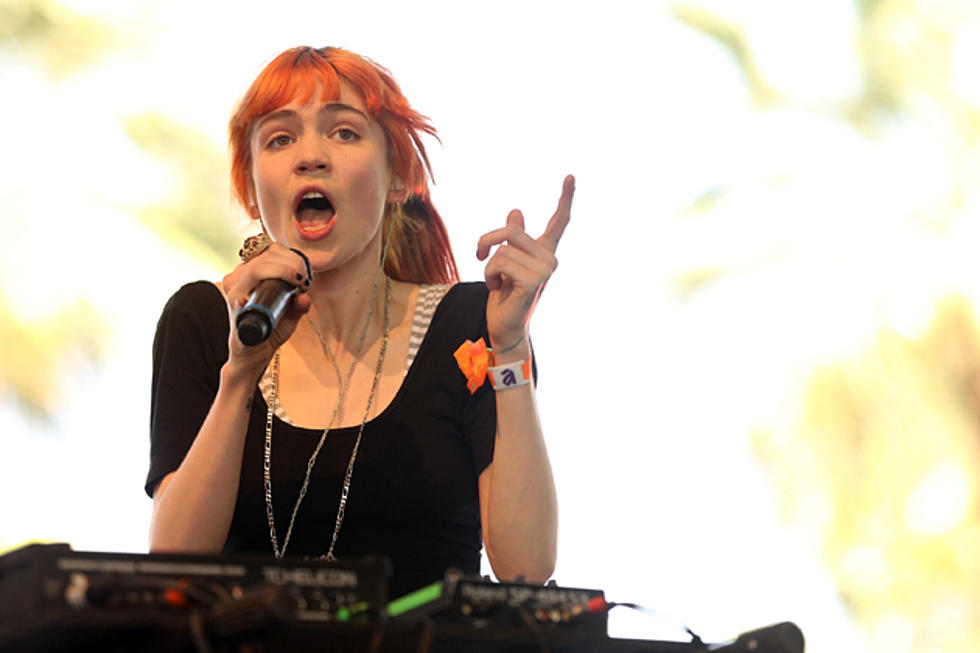 Grimes Speaks Out Against Ice Bucket Challenge
Karl Walter, Getty Images
As musicians and celebrities continue to dump buckets of ice water on their heads in an effort to raise money and awareness for the ALS Association to battle Lou Gehrig's disease, a couple of stars have raised their hands to say "no" to the ice bucket challenge.
Synthpop artist Grimes was recently challenged by friend and fellow Canadian Richie Hawtins, but instead of accepting -- or donating to the ALS Association -- she took to her personal website.
In her statement, she lists the reasons why she can't justify pouring water on her head in the name of the ALS Association
Haha okay, richie is probably the nicest and coolest person I've ever met so i can't really refuse him. however, I would like to say that I don't feel great about wasting water in this california drought, but i will donate money. However I will not donate money to this foundation because of their record of testing on animals, but I will donate money to the Malala fund because education is the key to ending almost every issue that faces humanity and our world today. yep yep! do i have to make a video to nominate other people? if so I'll do that later, but in the mean time Im calling out Detroit madness, Hana pestle and Blood diamonds
While she isn't following the ice bucket challenge exactly like the majority of participants, Grimes is right-in-line with the spirit of the campaign, raising awareness and money for a charity that is important to her.
Grimes isn't the first celebrity to call out the ALS Association's record on animal testing. Just a few days ago, Pamela Anderson said she would not be donating to the charity for the same reason. "I found that we may not be aligned -- in our messages," Anderson said about the organization in a message on Facebook. "Trying to cure human diseases by relying on outdated and ineffective animal experiments isn't only cruel -- it's a grave disservice to people who desperately need cures."
In a response to Anderson's Facebook update -- which, at the time of this writing, has received nearly 93,000 likes -- the ALS Association had this to say: "The ALS Association supports laboratories and scientists that strictly adhere to the guidelines provided by the National Institutes of Health. The Association is committed to honoring donor intent. If a donor is not comfortable with a specific type of research, he or she can stipulate that their dollars not be invested in that particular area."
Regardless of the varying opinions on the challenge, we expect to see even more celebrities partake in it this week. In the meantime, watch the greatest ice bucket challenge video of all time -- at least for now:
Foo Fighters Accept the Ice Bucket Challenge in Epic Fashion