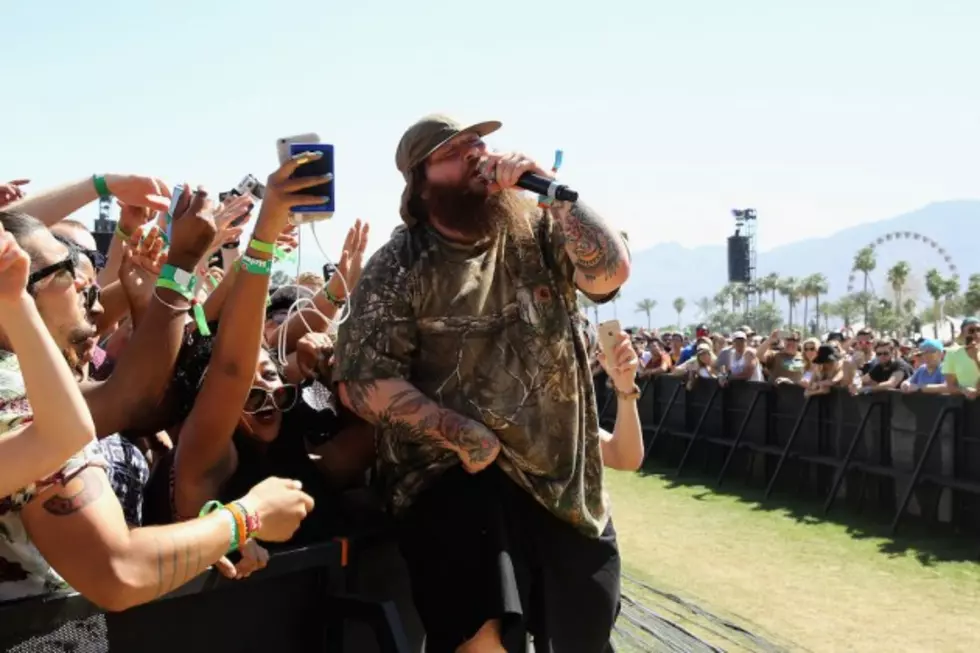 Petition Aims to Get Action Bronson's NXNE Show Canceled Because He 'Glorifies Rape and Violence'
Karl Walter, Getty Images
If there was an actual award given to the most lovable guy in hip-hop, Action Bronson would probably go home with the title every year, but somebody has actually found a reason to dislike the Queens rapper. Activist Erica Shiner has started a Change.org petition to have Action Bronson's free June 21 outdoor show, at Yonge-Dundas Square in Toronto as part of the NXNE festival, canceled.
The petition, which has nearly 5000 signatures as of this posting and says that "a musician who glorifies rape and violence against women should not be invited to perform at a public space in our city," reads in part:
Action Bronson glorifies gang-raping and murdering women. It is an insult to the people of Toronto for NXNE, Now Magazine, Vans Footwear, and the City of Toronto to be featuring an artist on public property whose lyrics are as follows:

'Then dig your shorty out cuz I geeked her up on molly
Have her eating d---, no need for seasoning
If seven dudes are in the room then she's pleasing them
Like a trooper. Hit her in the pooper. Throw her in the shower
Then I take her out to Lupa I'm kinky, I'll hit it even if it's stinky
Put em in the shower, make the p----y brand new Ran through. Give 'em money what I can't do Stuff her lunchbox & burn her with the candle.'
The festival is sticking to their guns with the Action Bronson booking, though: organizers released a statement that reads:
On Tuesday, May 26 a group of concerned Torontonians created a petition to remove Action Bronson from NXNE's lineup on Sunday, June 21 at Yonge-Dundas Square. The petition has spawned a passionate online discussion. The Festival would like to address this topic.

Action Bronson performed at Yonge-Dundas Square as part of NXNE in 2012 with Killer Mike, Raekwon and Ghostface Killah. It was a positive concert that was described by reviewers as "laid back", "a lot of fun" and a "world class hip-hop showcase". NXNE is confident the lineup on June 21 at Yonge-Dundas Square will make for another enjoyable day of music in a public space.

"NXNE will also present a number of rap artists at various venues, such as Tink and Kate Tempest, who have be lauded for the undisguised feminist viewpoints in their music." says Sara Peel, Managing Director of NXNE. " "That being said, in the interest of moving forward in a positive manner, we are engaging in discussion with our community about this important issue, and looking to provide opportunities for concerned voices to be heard."

NXNE believes each and every one of these artists have the right to express their views through music, but those views belong to them and them alone. Those who are offended by an artist are invited to check out other Festival showcases, as NXNE will present hundreds of artists this June - some may be considered controversial, but most are just plain fun.
The public discourse was continued by a counter-petition, titled "Stop Feminist Extremists from Censoring Action Bronson's Free Speech and his Performance at NXNE," and it reads:
Erica Shiner and her parteners either knowingly or unknowingly manipulated the meaning of the lyrics do describe the non-consensual drugging and gang raping of the woman in the lyrics, based on the single line "cuz I geeked her up on molly" This is a loose play of language to describe his giving her molly, and her willingly taking it. All other aspects of the lyrics do not contain material that describe the woman as being used against her will, in fact the same verse contradicts the idea of it. None of the sexual acts described are illegal, and in a court of law this would not stand as proof that a rape has occurred.
There are currently 3000+ people who will be attending the free concert, and I call on The city of Toronto, Yonge and Dundas Square Management, and Sponsors to stand up for free speech in the face of censorship by an extremist minority.
Action Bronson himself responded yesterday, brushing off the criticism in a tweet:
A few haters aren't going to stop Action Bronson from actin' crazy. Have fun this June, Toronto.