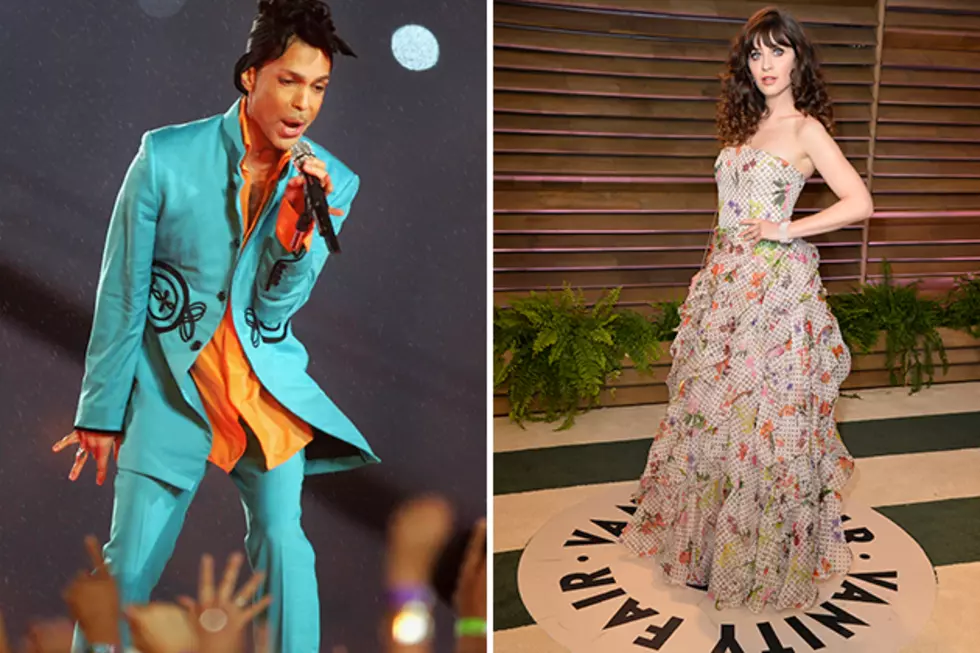 Prince and Zooey Deschanel Together Isn't As Good As You're Hoping
Jed Jacobsohn / Pascal Le Segretain, Getty Images
Prince made an appearance on the Super Bowl episode of Zooey Deschanel's super-sugary show 'New Girl.' He apparently made breakfast and offered some pointless relationship advice that probably won't affect the show or the characters in any longterm way.
At some point, the two sang part of a song together on the show. If you're a Prince or Deschanel fan (we understand there are some people who enjoy her singing), and you've been waiting to stuff that whole tune in your ears, your wait is over: You can now hear their collaboration, 'FALLINLOVE2NITE.' Just don't get your hopes up too much. You can listen to it below.
The song, much like Deschanel's show, is about as sweet and appealing as a triple-scoop ice-cream cone that just fell on the sidewalk. Maybe it's Prince's choice to sound like a cartoon character in this track. Maybe we just don't "get" Deschanel's appeal as a singer. Picking on her for any reason does feel wrong because she does seems incredibly sweet. However, we have a job to do, and she makes it very easy.
Since the track dropped, people have been talking about the possibility that Prince may return to a major label. The single was released by Epic Records. Then Epic Records head L.A. Reid was seen at a listening party for Prince's upcoming album 'PLECTRUMELECTRUM.' So there's that.
No word yet on if disappointing music made by highly talented musicians will be a regular thing on 'New Girl.' Although to be fair, maybe it's been a regular part of the show. How are we supposed to know? By watching it? No, thank you.