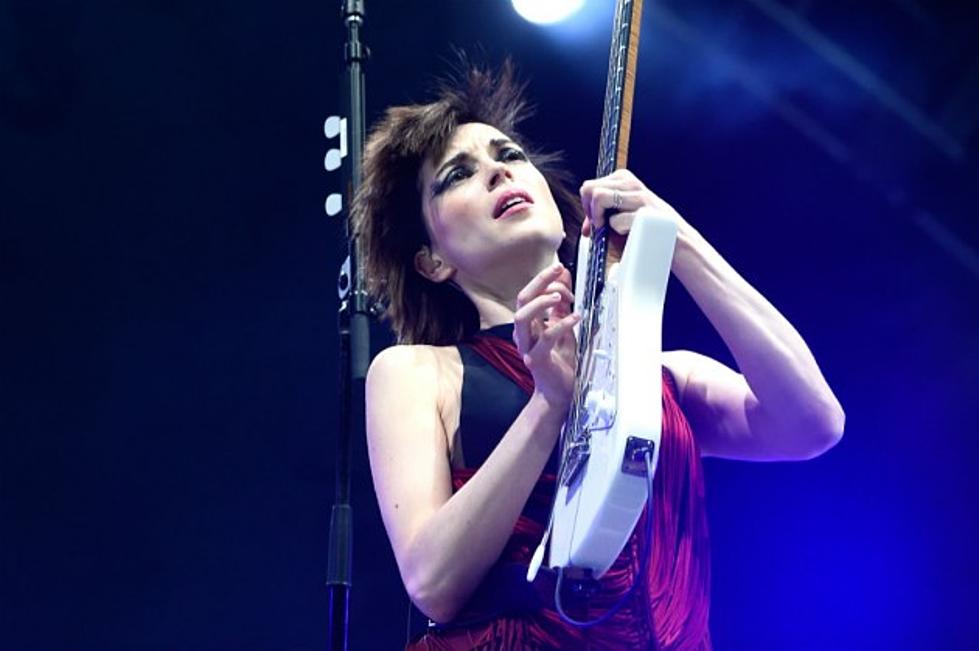 Check Out This Sweet Guitar St. Vincent Designed for Ernie Ball
Frazer Harrison, Getty Images
St. Vincent's Annie Clark consistently wows with her guitar mastery, so really, it was only a matter of time before she translated that talent into her very own model.
Clark has done just that in collaboration with Ernie Ball, designing her own signature "St. Vincent" guitar. The guitar is already available for pre-order at Ernie Ball Music Man, and it's set to ship out in 2016. The guitar will be made available in black or "Vincent Blue," the latter of which was hand-mixed by the artist herself. Ernie Ball's website offers this description of the guitar (see photos below):
Featuring an African mahogany body, Ernie Ball Music Man tremolo, gunstock oil and hand-rubbed rosewood neck and fingerboard, St. Vincent inlays, Schaller locking tuners, 5-way pick up selector with custom configuration and 3-mini humbuckers, the guitar also comes complete with Ernie Ball Regular Slinky guitar strings.
In a press release, Clark had this to say about the design and her partnership with Ernie Ball:
I'm extremely grateful to have been given the opportunity to design a guitar this personal with this company, this family, in whom I believe so completely. The entirety of my experience as a guitarist is invested in this instrument. I sought to create a tool that would help and inspire those who share my priorities in a guitar, namely that it be comfortable and lightweight and that it exhibit clean lines, all without sacrificing tone flexibility.
Ernie Ball CEO Sterling Ball described working with Clark as the "highlight of my career."
"In addition to being one of the finest guitar players I've worked with over the past 30 years, she's equally, if not more, gifted as a guitar designer," Ball says in a statement. "I'm incredibly proud Annie chose us to help realize her vision."
While we didn't know it at the time, Clark debuted the "St. Vincent" during her performance with Beck and Taylor Swift at Swift's 1989 concert in L.A. earlier this week.