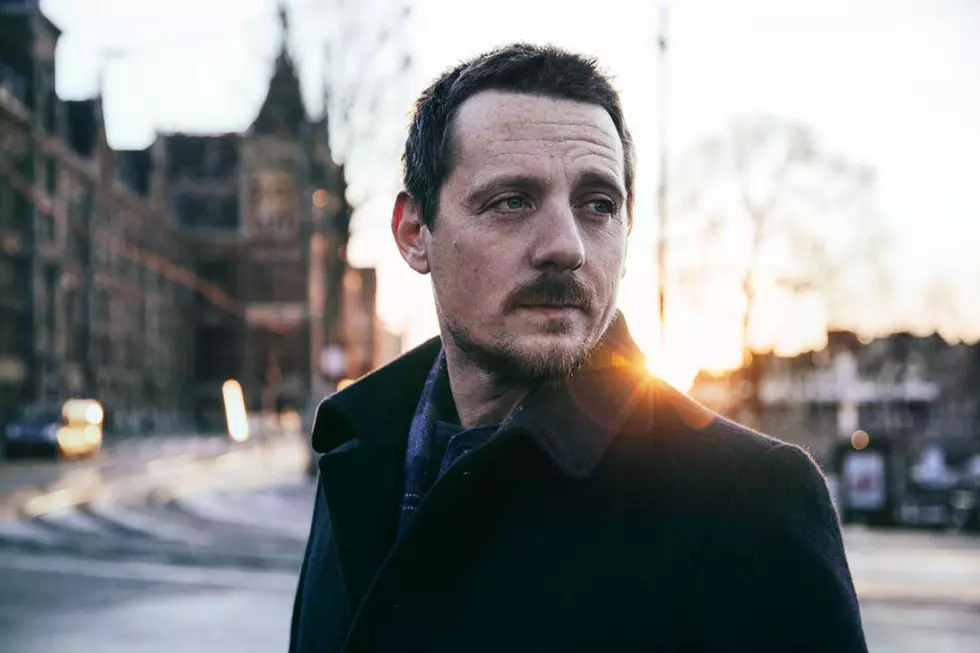 Sturgill Simpson Announces New Album 'A Sailor's Guide to Earth,' Shares Bluesy 'Brace for Impact'
Reto Sterchi
Sturgill Simpson has announced his highly anticipated follow-up to his 2014 sophomore album Metamodern Sounds in Country Music.
Simpson will drop A Sailor's Guide to Earth on April 15, his first album for Atlantic. The forthcoming full-length spans nine tracks, including a cover of Nirvana's "In Bloom" and lead single "Brace for Impact (Live a Little)." Take a listen to the latter in the video above. As for the former, Simpson calls the cover a "beautiful and pure homage" to Kurt Cobain:
I remember in seventh or eighth grade, when that album dropped, it was like a bomb went off in my bedroom. For me, that song has always summed up what it means to be a teenager, and I think it tells a young boy that he can be sensitive and compassionate—he doesn't have to be tough or cold to be a man. So I wanted to make a very beautiful and pure homage to Kurt.
Simpson produced A Sailor's Guide to Earth and recorded it at the Butcher Shoppe in Nashville with engineer David Ferguson (Bonnie "Prince" Billy, Johnny Cash). Simpson says the album is inspired by life on the road and being away from home as told from a sailor's perspective:
I really questioned whether I wanted to spend however many more years on this bus, not being there and seeing all that was happening. That's where this record came from, just processing all that guilt and homesickness. I had to figure out a way to put that into music, so I decided to write the whole record from the perspective of a sailor going to sea and not knowing if he's ever coming home.

I remembered an old letter that I read, written by my Grandfather Ora to my grandmother when he was in the Army. He was in the South Pacific during World War II, and he thought he was going to die. So he wrote a goodbye letter to her and their newborn son. He finally made it home five years later.
Take a look at A Sailor's Guide to Earth's cover art and track list and Simpson's upcoming U.S. tour dates below:
A Sailor's Guide to Earth Track List
1. "Welcome to Earth (Pollywog)"
2. "Breakers Roar"
3. "Keep It Between the Lines"
4. "Sea Stories"
5. "In Bloom"
6. "Brace for Impact (Live a Little)"
7. "All Around You"
8. "Oh Sarah"
9. "Call to Arms"
Sturgill Simpson Tour
May 5: Austin, TX - Austin City Limits Live at the Moody Theater
May 6: Austin, TX - Austin City Limits Live at the Moody Theater
May 7: Dallas, TX - The Bomb Factory
May 10: Houston, TX - White Oak Music Hall
May 11: Oklahoma City, OK - Criterion Theater
May 16: Lexington, KY - Lexington Opera House
May 17: Lexington, KY - Lexington Opera House
May 18: Chattanooga, TN - Tivoli Theater
May 20: Knoxville, TN - Tennessee Theater
May 21: Indianapolis, IN - Egyptian Room at Old National Centre
May 22: Louisville, KY - Louisville Palace
June 2: Royal Oak, MI - Royal Oak Theatre
June 3: Chicago, IL - Riviera Theatre
June 4: Milwaukee, WI - Riverside Theater
June 5: Minneapolis, MN - First Avenue